Introduction
The Xiaomi Mi 11 Ultra came out in April of 2021, and to this day, it's a testament to smartphone excellence. From the materials used through the design to the components and the performance, the Mi 11 Ultra is a top-tier smartphone through and through.
Like the Mi 10 Ultra, the Mi 11 has a beefy 5,000mAh battery with chart-topping charging speed, getting to 100% in about 40 minutes. And if you prefer wireless charging, the Mi 11 Ultra can again go to 100% in under 40 minutes with the appropriate charger. And that's before we get to the uncompromising set of cameras.
Seven months on, those cameras are still the best you can find on a phone. The main 50MP 1/1.12-inch Samsung GN2 is the biggest CMOS sensor on a commercially-available phone (technically smaller than the 1-inch type in the Xperia Pro-I, but the Mi 11 Ultra uses all of its imager). There's a 120mm periscope zoom camera in front of the joint-largest zoom sensor in a phone at 1/2.0-inch and another half-inch sensor in front of the widest ultrawide in a phone at just 12mm, complete with autofocus. The selfie is respectable, too.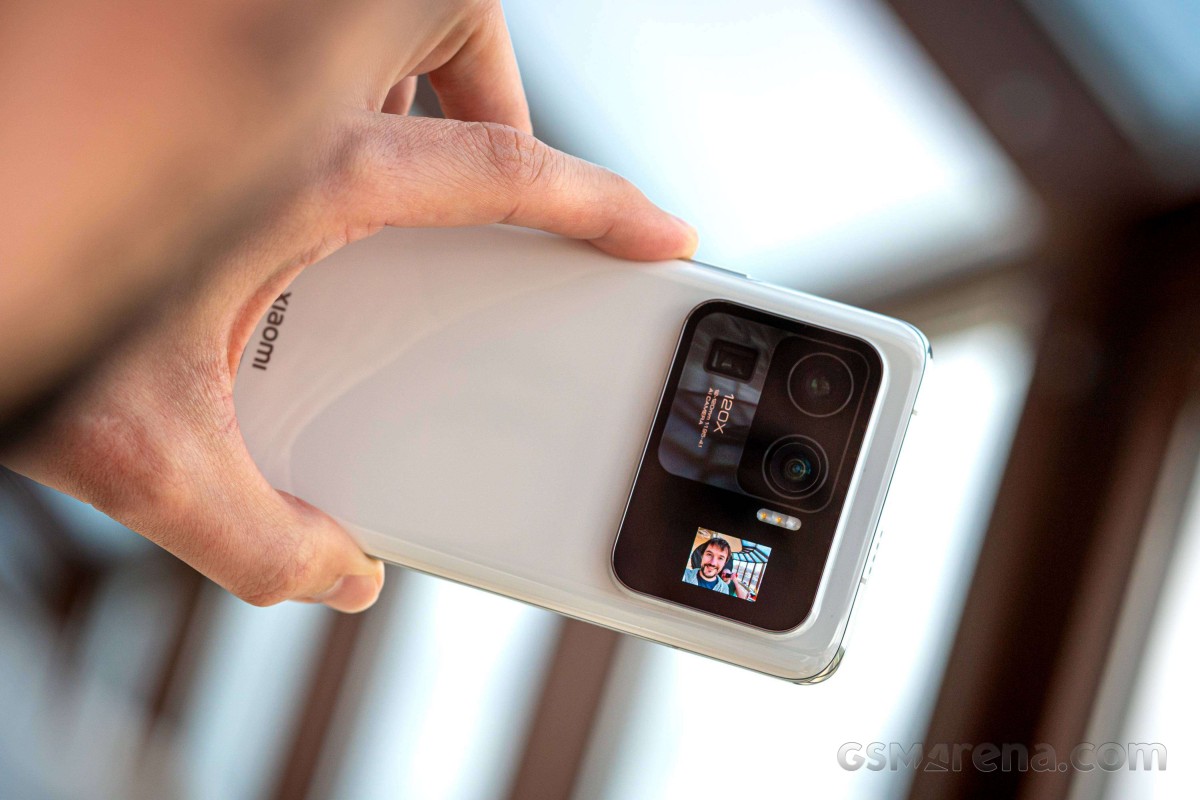 While the camera hardware requires a shocking camera island to be erected on the rear of the Mi 11 Ultra, the front is a polar opposite. It's all screen – a lovely 6.81-inch AMOLED of 120Hz at 1440p – with sloped edges on all sides – left and right, as well as top and bottom, which give the Mi 11 Ultra's front an uninterrupted, pebble vibe.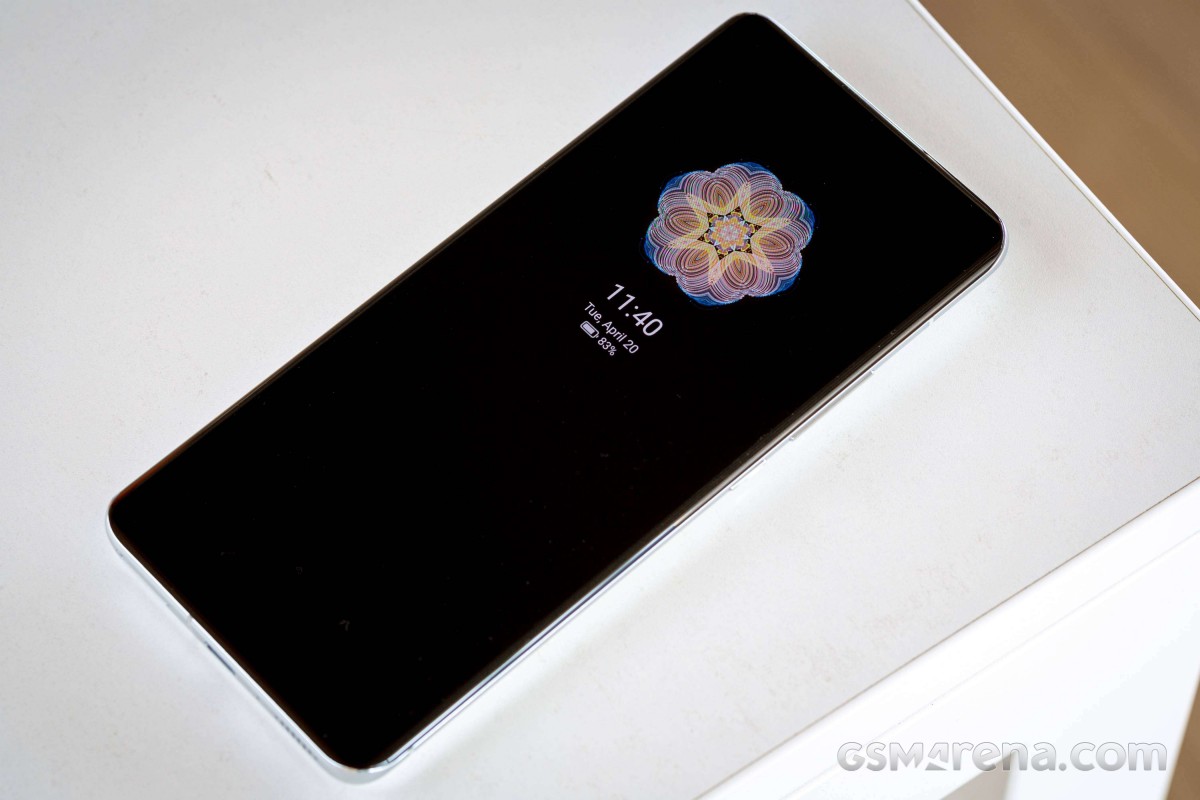 The Xiaomi Mi 11 Ultra remains one of the fastest phones thanks to a Snapdragon 888, up to 12GB of RAM, UFS 3.1 storage, and a display touch sampling rate of 480Hz.
Whichever way you look at this phone, it's the best around. Xiaomi made zero compromises in making it, but they also ask a lot of money for it. So it better be worth it, right?
I've had the privilege to use the Xiaomi Mi 11 Ultra every day since its launch, and I've taken it on summer walks, autumn walks, long workdays, you name it. I've shot a lot of images and videos with it and unfortunately gave it a scratch or two because you can't use this phone in a case.
So let's take a trip back through my days of using the Xiaomi Mi 11 Ultra and see how it's held up.
A masterpiece of a handset
The Xiaomi Mi 11 Ultra is the loveliest phone this reviewer has used. Though I much prefer a black phone with a matte finished-rear panel that I tuck into a standard rubber case and have all the peace of mind left to me, I can't help but enjoy the Mi 11 Ultra, a bit guiltily so.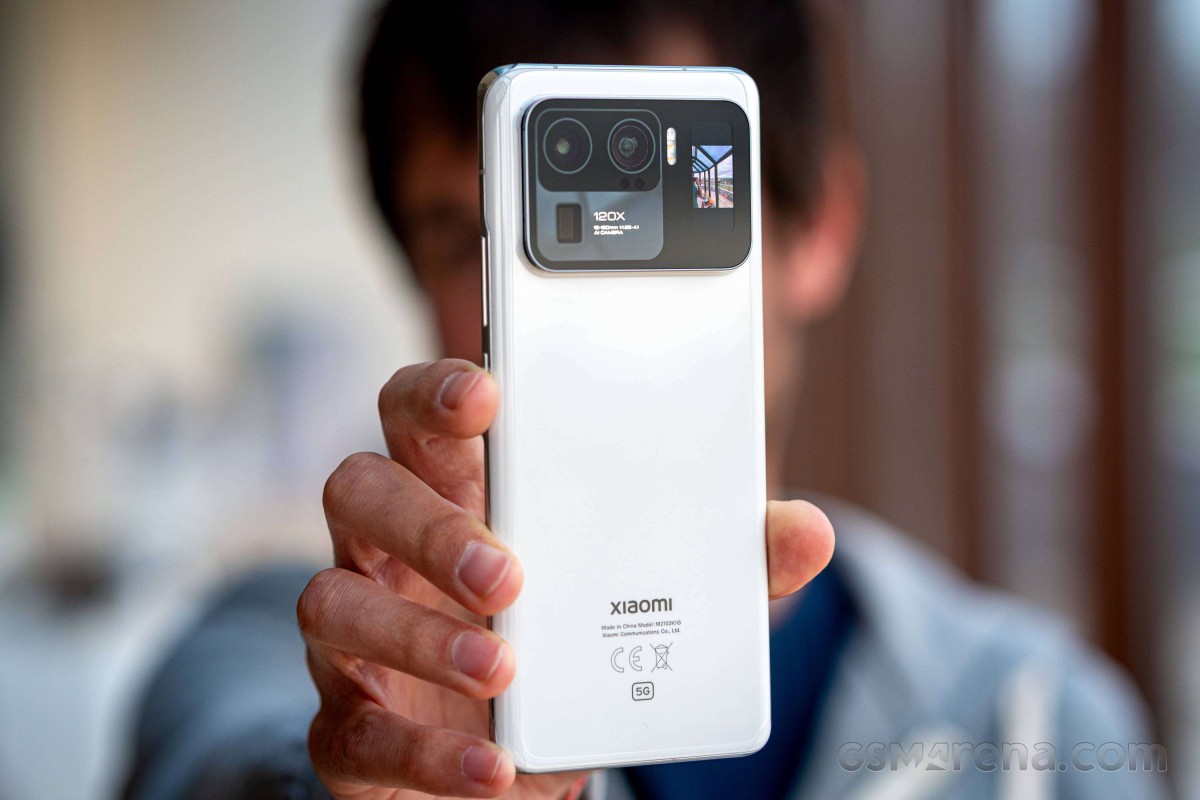 First of all, I don't use it with a case. That means that I've developed a mindfulness to my grip that I can't say I enjoy too much. But the Mi 11 Ultra requires you to grip it mindfully, as it's one of the slipperiest phones around. It's like Xiaomi designed it specifically to be slippery – the razor-thin frame, which is sandwiched between heavily curved glass plates, leaves no place for purchase, and picking it up from a table is a hassle.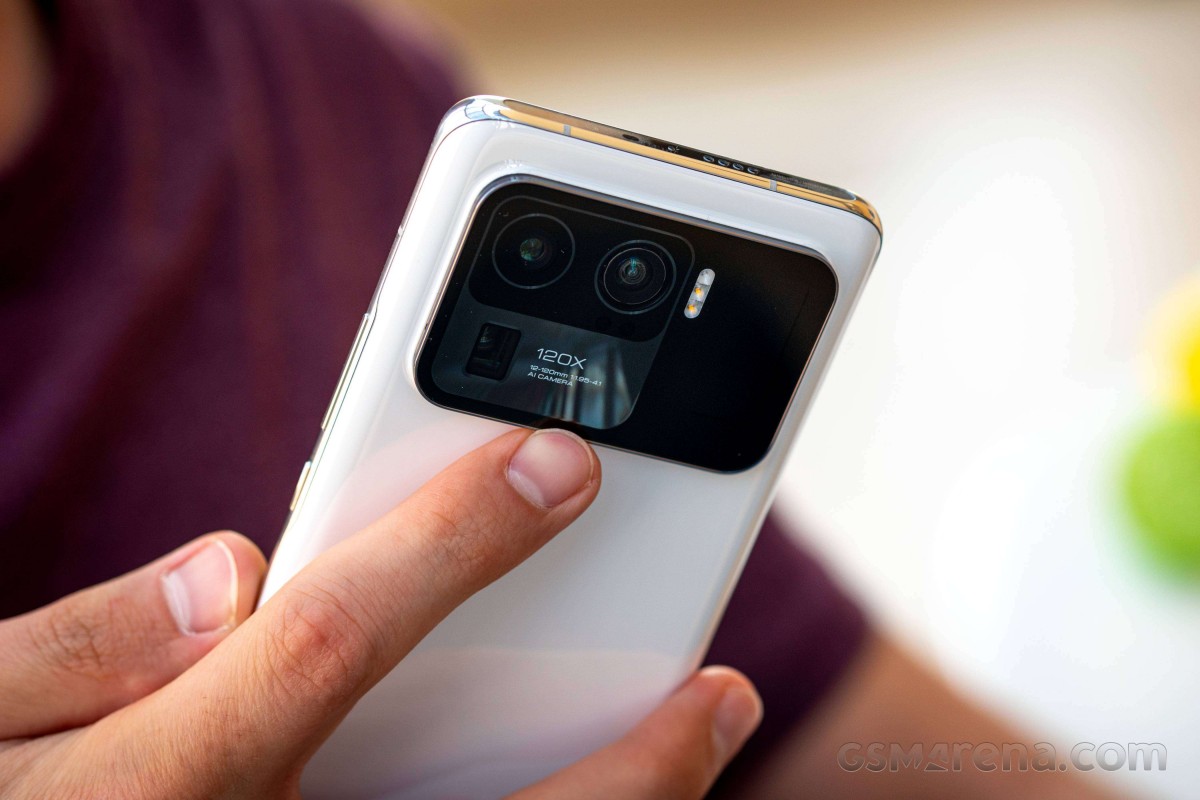 The rear Ceramic panel is even more smooth to the finger and slides off just about any uneven surface you leave the phone on. And to add insult to injury, the humongous camera island disbalances the entire phone with its weight.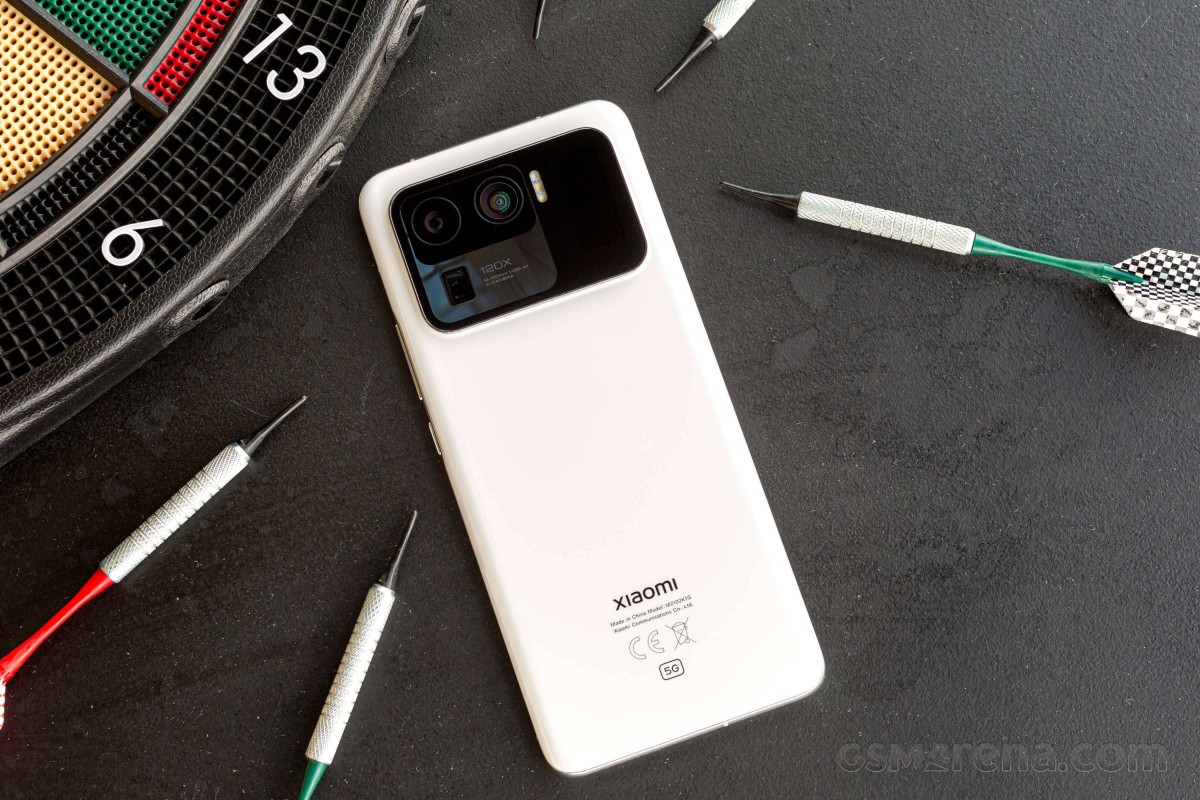 But the constant worry of dropping the Mi 11 Ultra fades in the face of the joy it is to hold. Its lack of sharp corners makes it slide about seamlessly in your hands, and it has the reassuring weight of a well-made flagship phone.
Some users might frown at that weight, which at 234g is on the higher end of the spectrum, but this is a big phone, and it's made with quality materials – why wouldn't you want it to be weighty?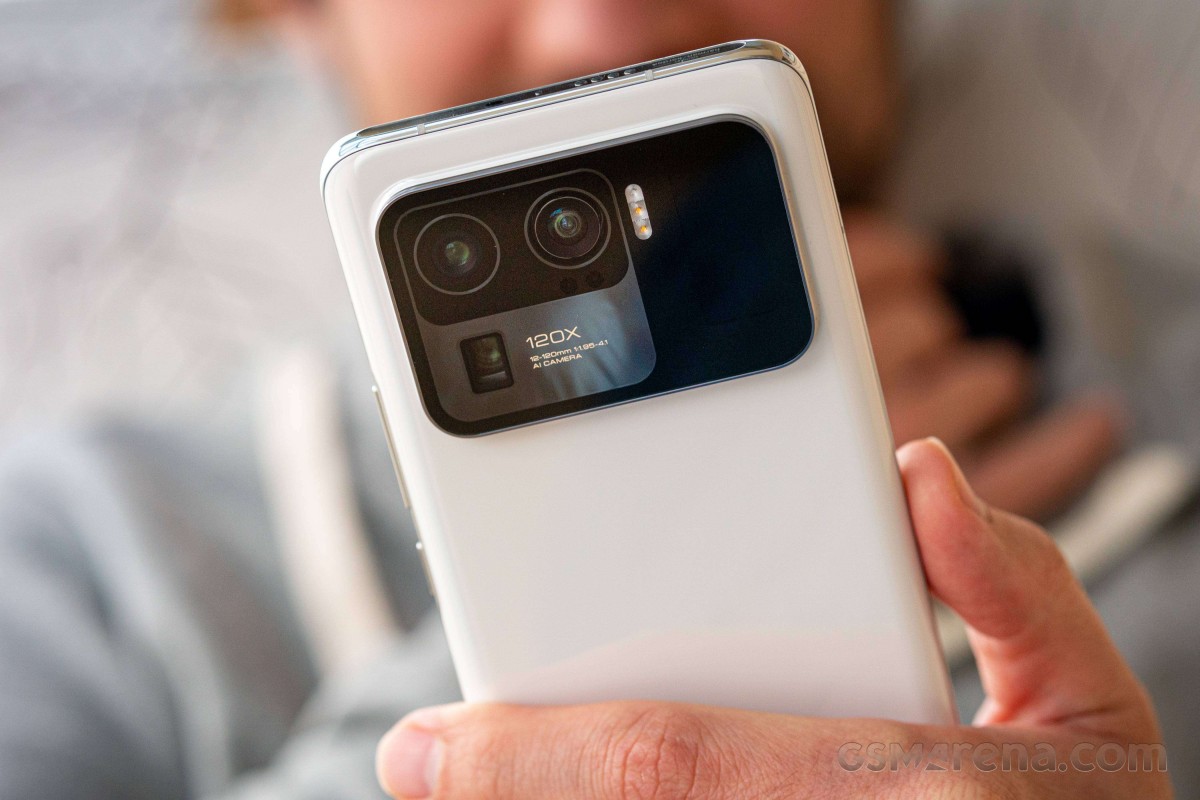 Back to that ceramic for a sec – it has a palpable feeling of quality that isn't there with glass panels. Resting your fingers on this phone's back feels nicer than on most any other around.
Xiaomi put a lot of thought into the design of the Mi 11 Ultra. There are subtle touches here that you'll notice when you're using it. The frame expands at the corners, from where the front glass curves downward.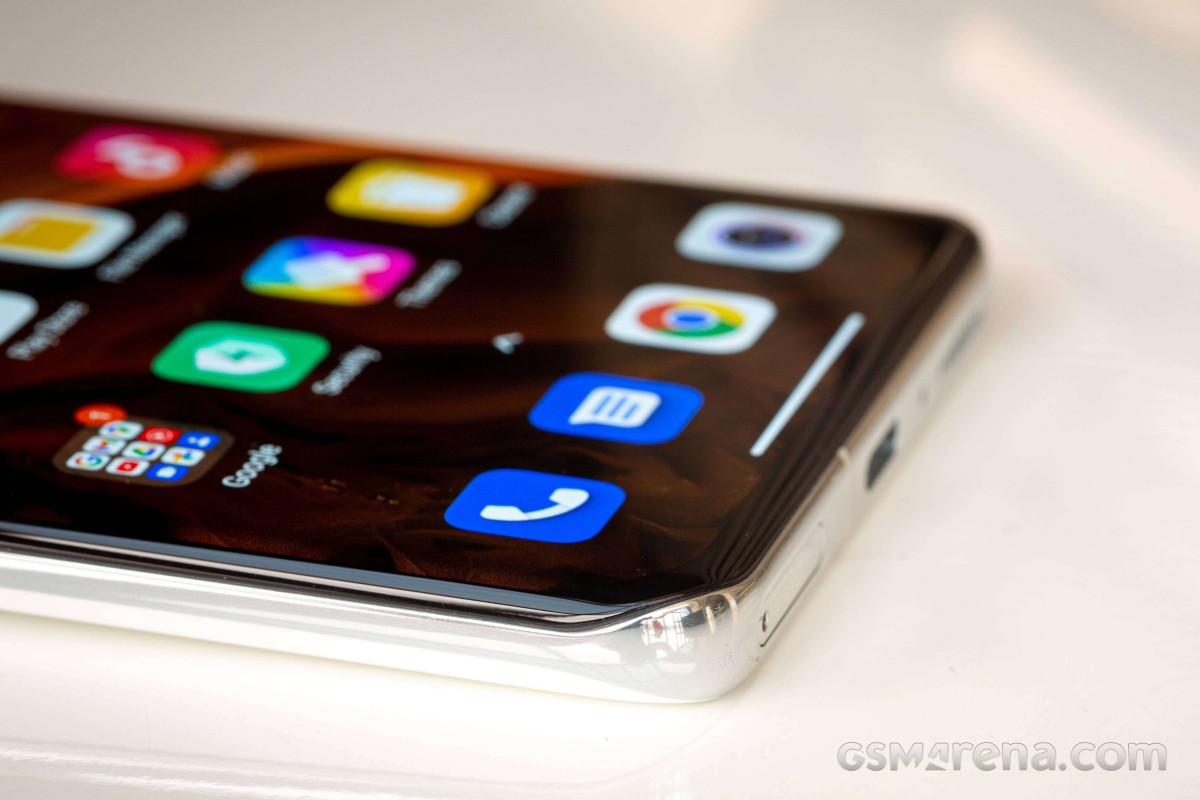 The frame's surface is rounded throughout, except at the top and bottom, where it's flat. Because of this flat base, the Mi 11 Ultra can stand on its own on a table.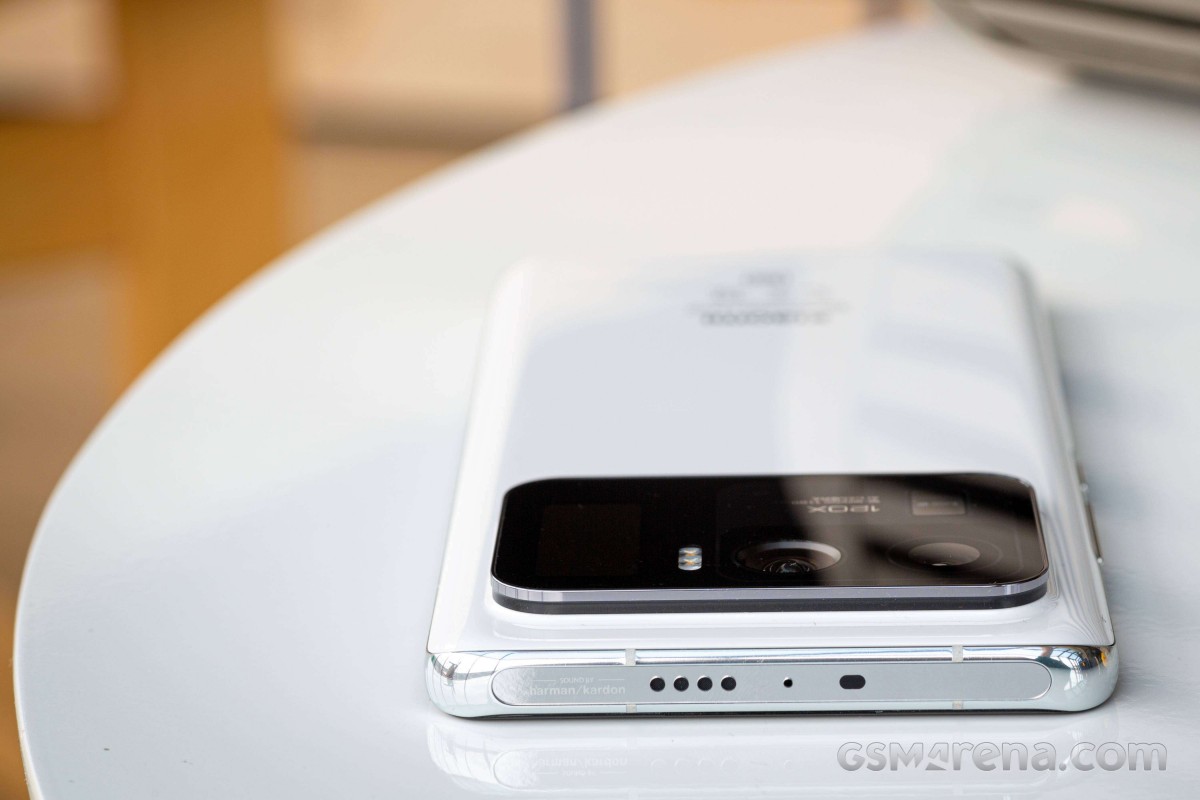 Another subtle design feature is the speaker grille on the bottom, which is shaped like a sound wave, to emphasize the Harman Kardon-tuned speakers beneath – which are excellent, by the way.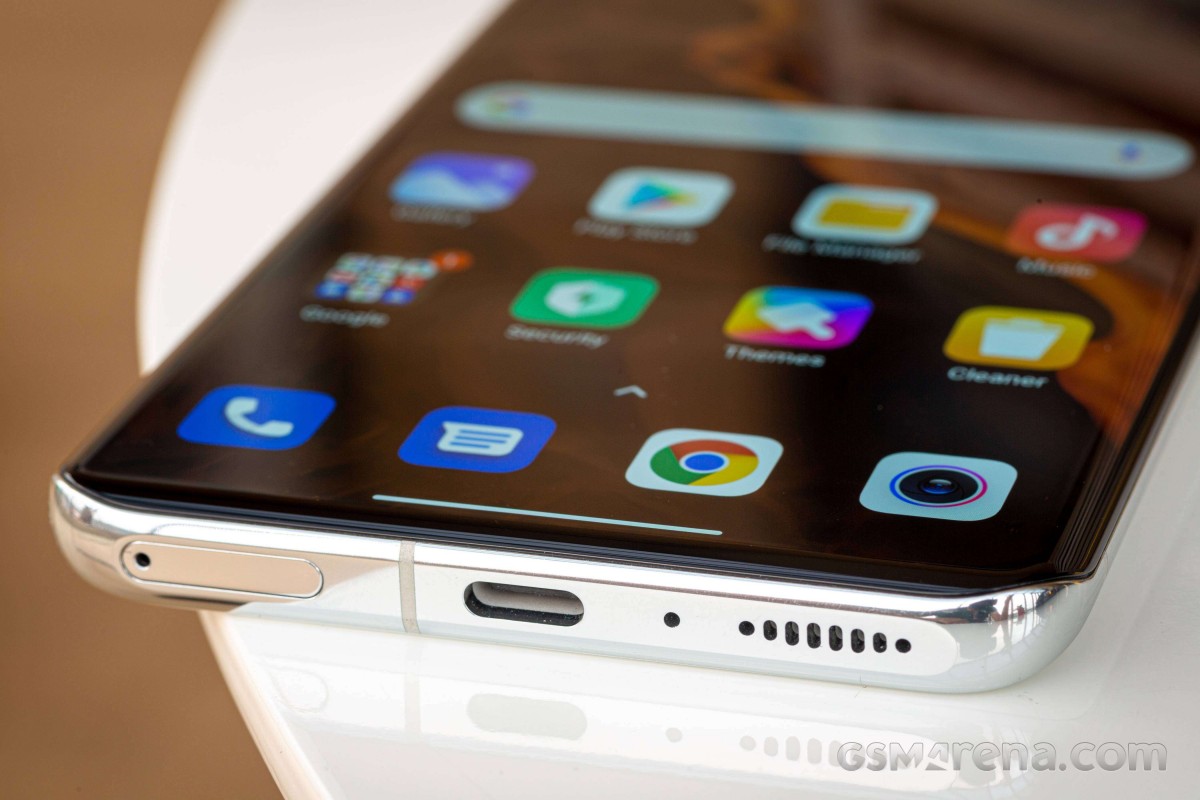 Moving to the rear and you're met by the biggest camera bump on a phone. Both protruding and wide, this continent-sized island makes up for its size in the packed technology inside. There are three big camera sensors, a triple LED flash, and an entire 1.1-inch secondary screen. When the screen is off, it blends into the blackness, but you could set it to show the time or use it as a camera viewfinder.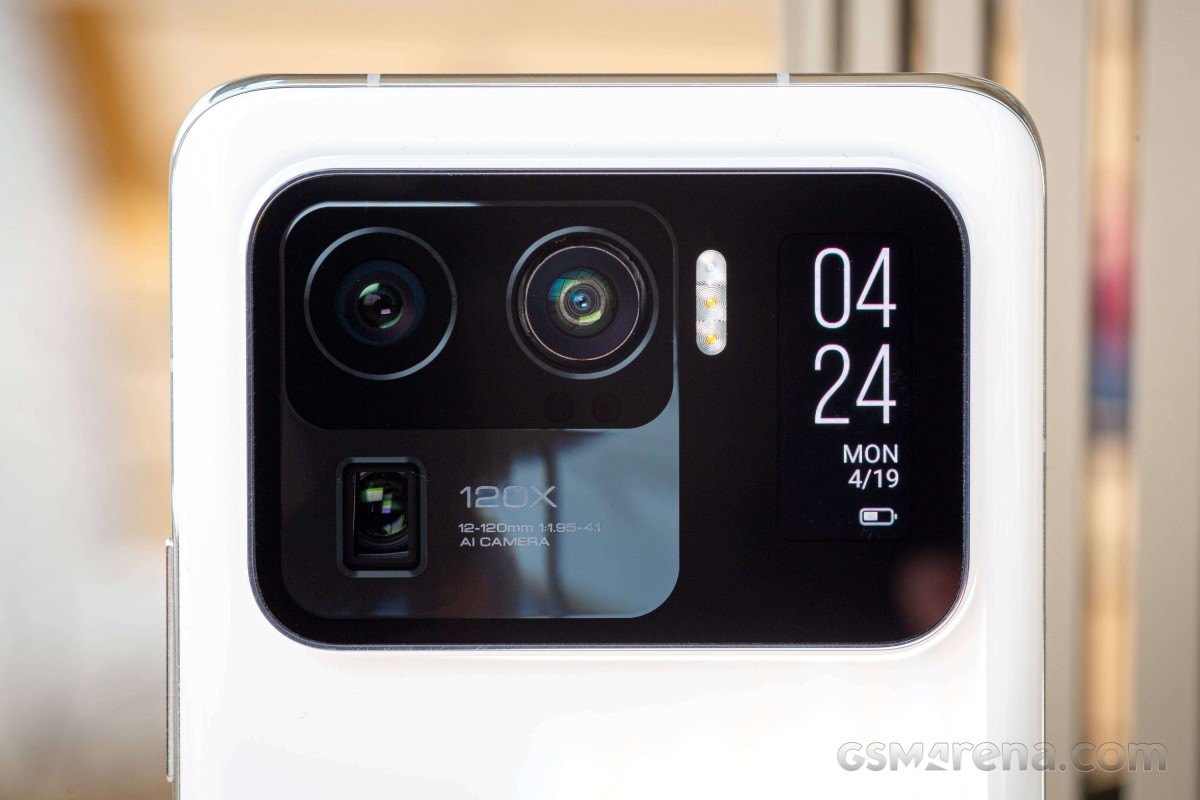 You can get the Xiaomi Mi 11 Ultra in Black, but in this viewer's eyes, the White is divine.
How has it held up?
Before I get to battle scars, I have to address the smudge retention of this phone. Both the front and back panels are prone to smudges and grease, and it's a bit unpleasant. The ceramic back especially. It's gotten to the point where I wipe the Mi 11 Ultra with a microfiber cloth a few times a day. Perhaps the oleophobic anti-smudge coating has worn off faster than usual or something.
I haven't dropped the Xiaomi Mi 11 Ultra from more than 50cm high, so I can't attest to its break resistance. But I have carried the phone only without a case for the past 7 months and have accumulated some fine scratches on its front. They're visible only under direct sunlight and aren't palpable. In my world, this is par for the course of using a phone.
The frame and rear panel are immaculate. Not a single scratch on them.
Because the ceramic rear panel is as slippery as I've said, it's a bit of a chore to find a suitable wireless charger for the Mi 11 Ultra. I charge my phones overnight at the bedside table and have a wireless charger for that purpose. The Mi 11 Ultra would slide off my regular coaster-style charger, but it would do it very slowly – the night I found this out, I was woken to the jarring sound of the phone dropping to the table and subsequently to the floor.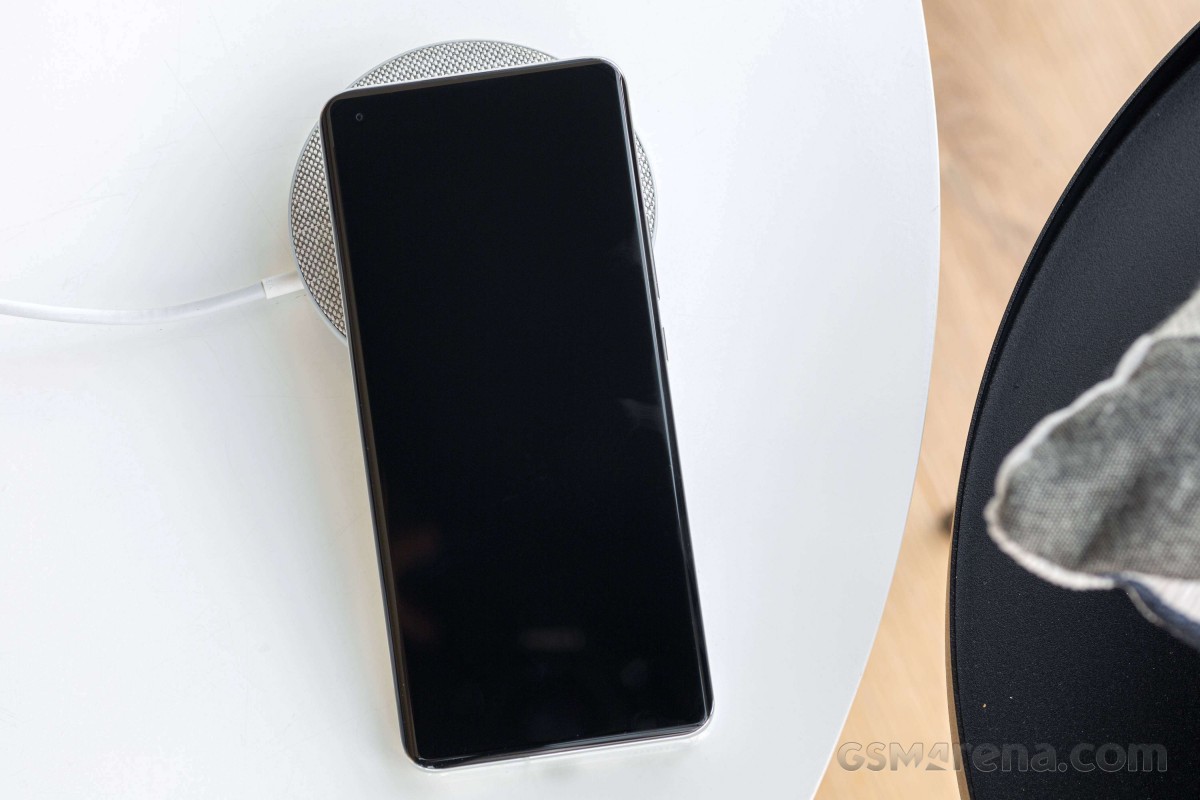 I tried a few other chargers we had lying around at the office, but I found that the Mi 11 Ultra only really stood still on Xiaomi's own 20W wireless charger, which has a grippy surface. Yet that one has a fan to cool a fast-charging phone, and it's audible in a bedroom, so it's no use either.
Luckily, the Mi 11 Ultra can charge extremely fast through its 67W wired adapter, so I've used that. But it brings me to the only hardware fault the Xiaomi Mi 11 Ultra has manifested. Its USB-C port is a bit wobbly. It doesn't always connect to a cable when you insert it and needs a bit of jerking around.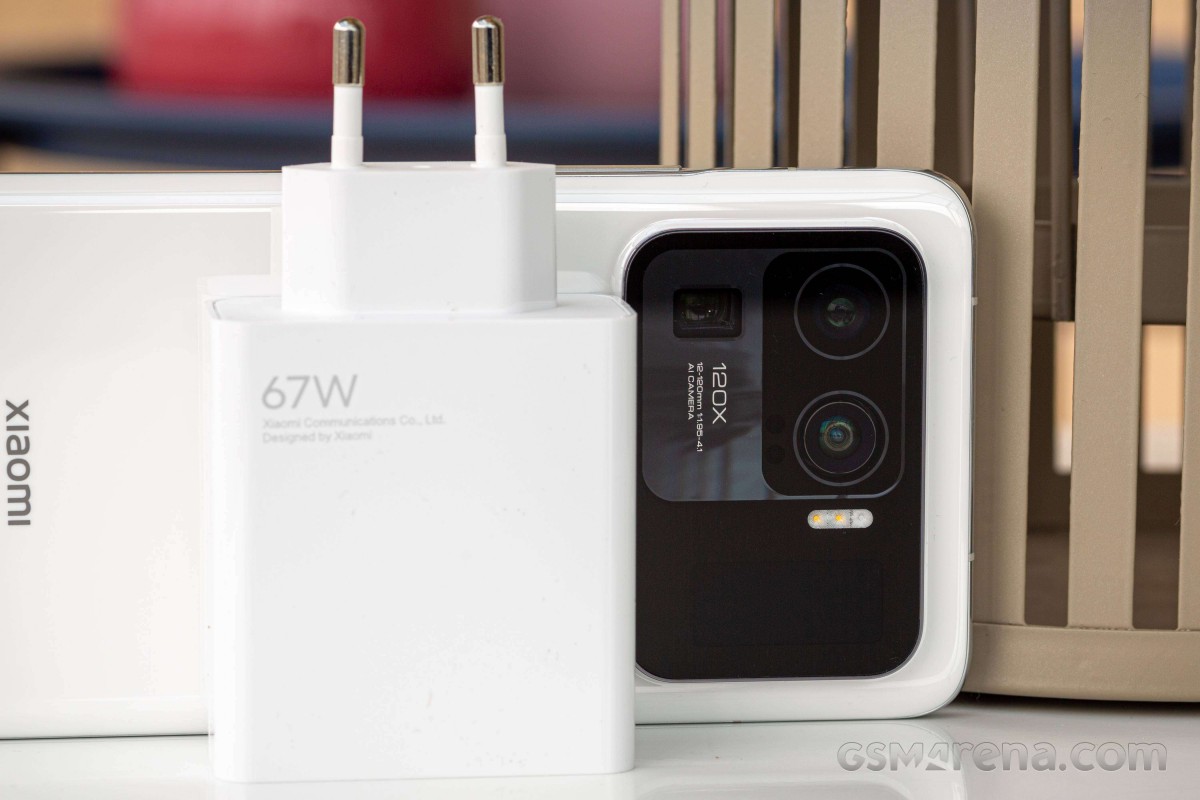 It's not a big issue when charging, but when you need to pick up the phone, it could disconnect and reconnect, which displays an annoying charging animation that blanks the entire display.
The best display around
For me, a phone has to do three things well – display, cameras, and battery life. As that first one goes, you can't do better with any other phone. The Xiaomi Mi 11 Ultra has a 6.81-inch 1440x3200px AMOLED that variably refreshes up to 120Hz, supports HDR10+, and gets as bright as 940 nits.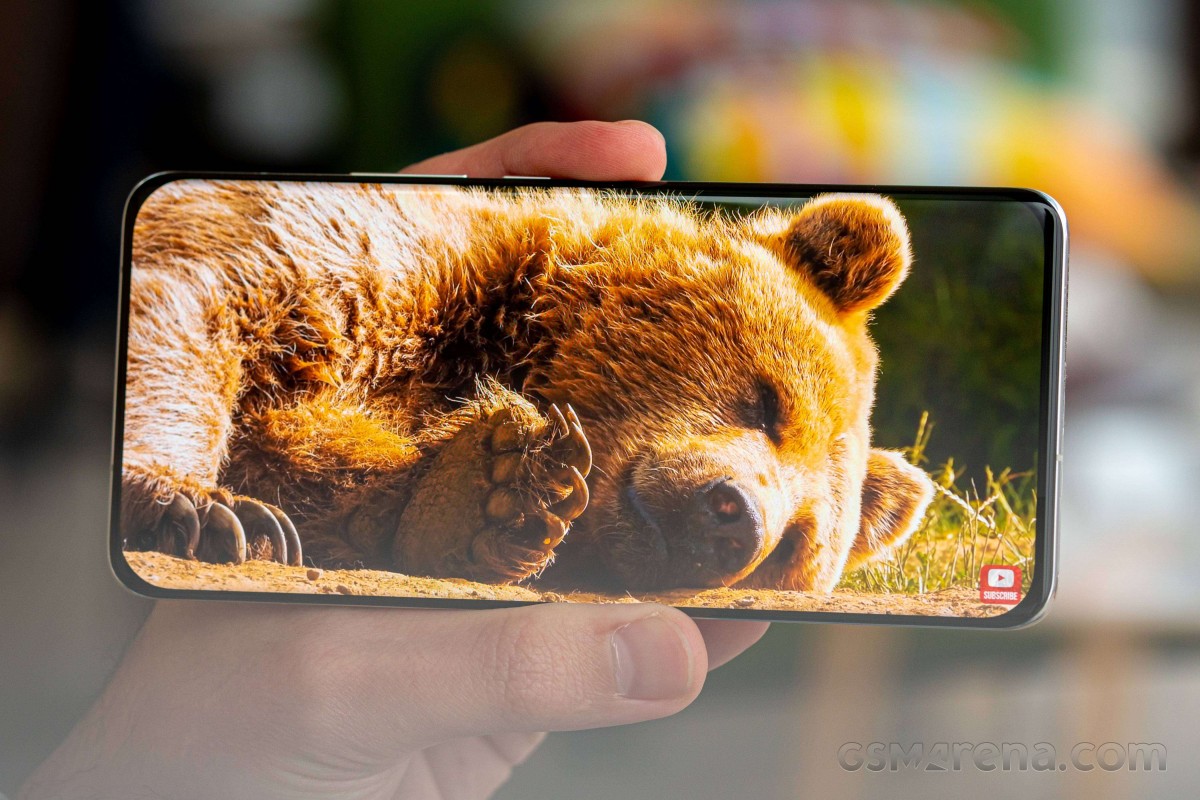 The display is very capable, regardless of the use case. Scrolling through the OS is very smooth, and watching videos looks awesome. The auto-brightness feature is very stable. The display is never too dim for the environment, and I rarely need to micromanage it during usage.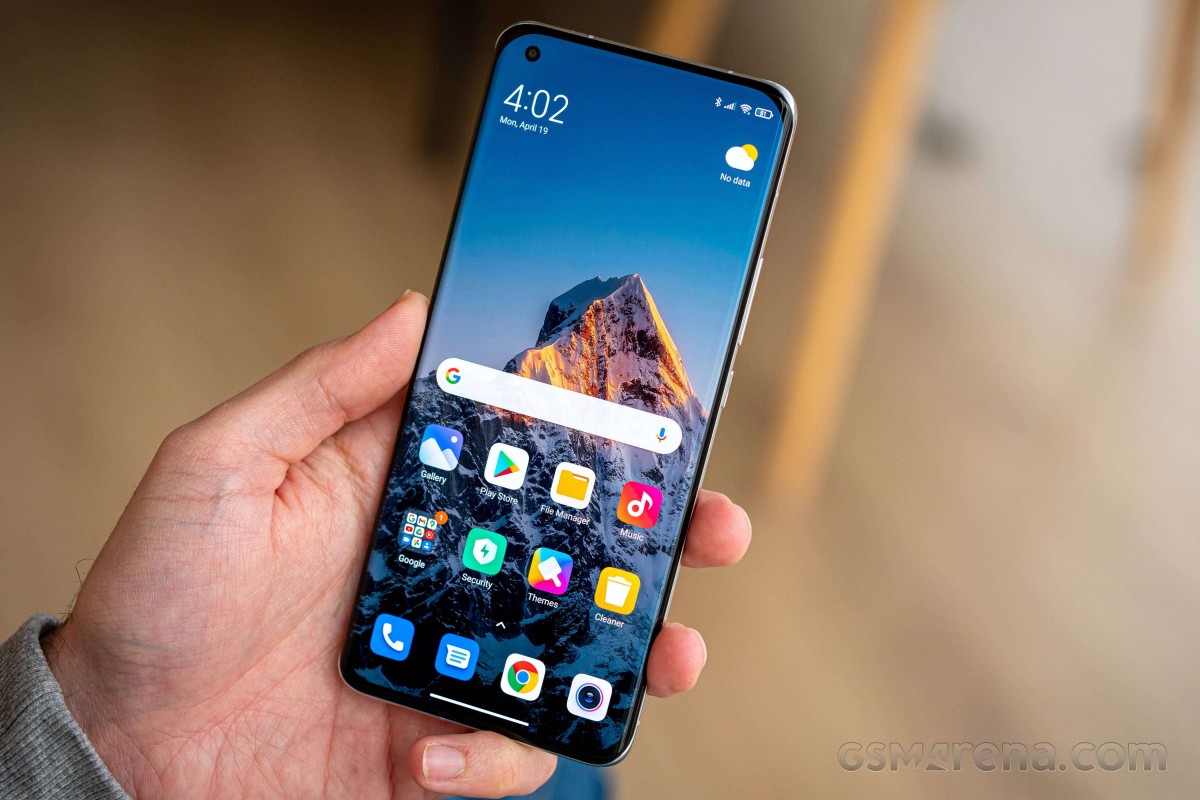 What makes the display even more of a joy to use are the thin bezels. They are thinner than on competing phones like the Galaxy S21 Ultra. The Mi 11 Ultra's display offers a screen-to-body ratio of 91.4% if that metric means anything to you.
MIUI is fluid, customizable, and helpful
At the time of writing this long-term review, the Xiaomi Mi 11 Ultra is at stable MIUI 12.5.10, based on Android 11. Xiaomi is testing Android 12 as we speak, so the Mi 11 Ultra could be on the receiving end of it by New Year.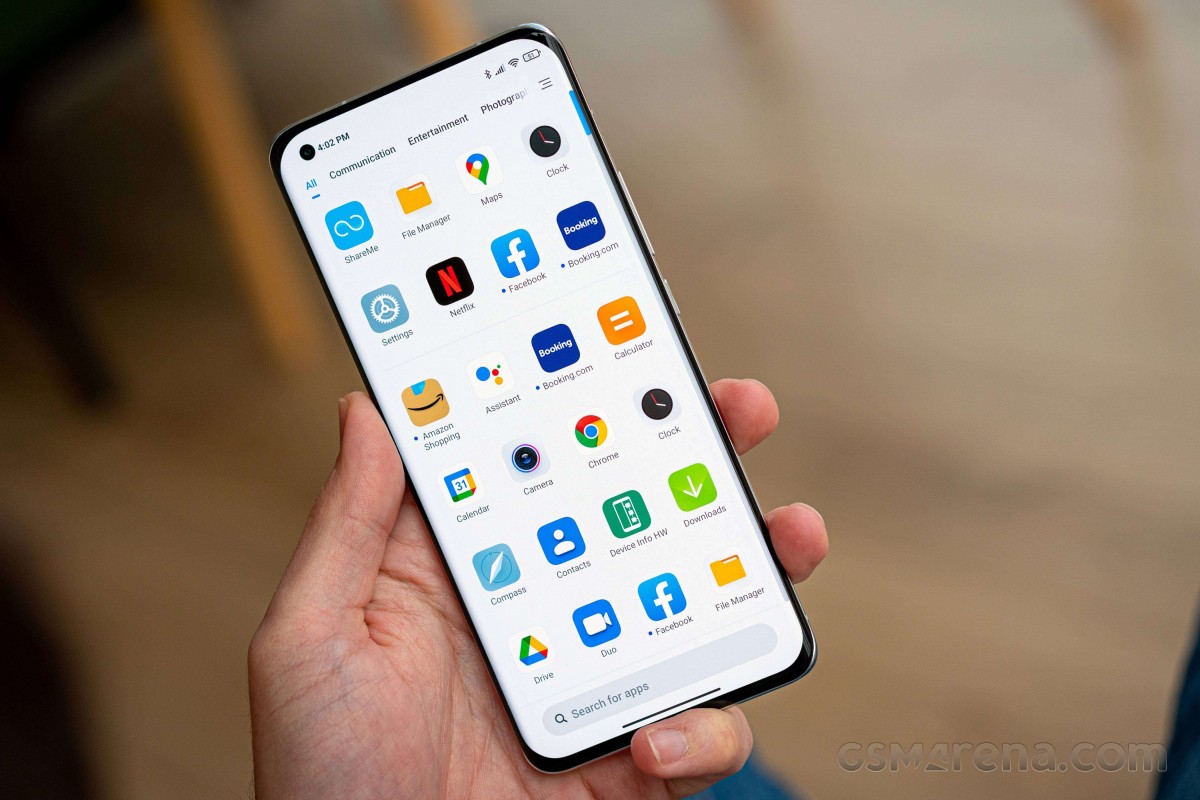 MIUI takes some getting used to. I wasn't in love with its icon design from the get-go, nor its default state of doing things. By default, the OS lacks an app drawer and puts all apps on the homescreen. I'm not a fan of this, so I chose to have an app drawer for all the straggler software on my phone. I also had to switch to swipe navigation, as the three-button navigation system that comes as default should have been .
As for the icons, I did a deep dive into the Themes app to find an icon pack I liked. It took a bit of trial and error, but I ended up with a circular set I enjoy using. To make the Mi 11 Ultra more hospitable to my tastes, I made the icons a bit bigger too. Now I have a phone that I like looking at, both from the outside and in.
I'm an iOS veteran and I came to the Xiaomi Mi 11 Ultra from the Galaxy S21 Ultra. I found OneUI a bit choppy compared to iOS – there is a very slight pause after every swipe, which doesn't happen on iOS. We're talking milliseconds here, barely noticeable, in fact not noticeable after an hour and only if you have the two OSes side by side – but there is a slight delay on OneUI compared to iOS.
MIUI behaves much like iOS in that it delivers animations and actions smoothly and doesn't need that millisecond to catch its breath afterward. For example – you open up the Settings menu, swipe back to the Homescreen, swipe back to the Settings, and immediately begin scrolling the listed items – no delays – it's all responsive and feels instantaneous.
MIUI's haptics are excellent. There are tiny vibration nudges here and there that give the OS a physical level that others, like OneUI, lack.
Performance is excellent. Apps load instantly, tasks are immediate – it's a joy to use this phone. But, the Snapdragon 888 inside gets noticeably warm when you've used the phone for a while. This is especially true when you use the camera, especially during a hot summer day. This makes the phone less enjoyable to use.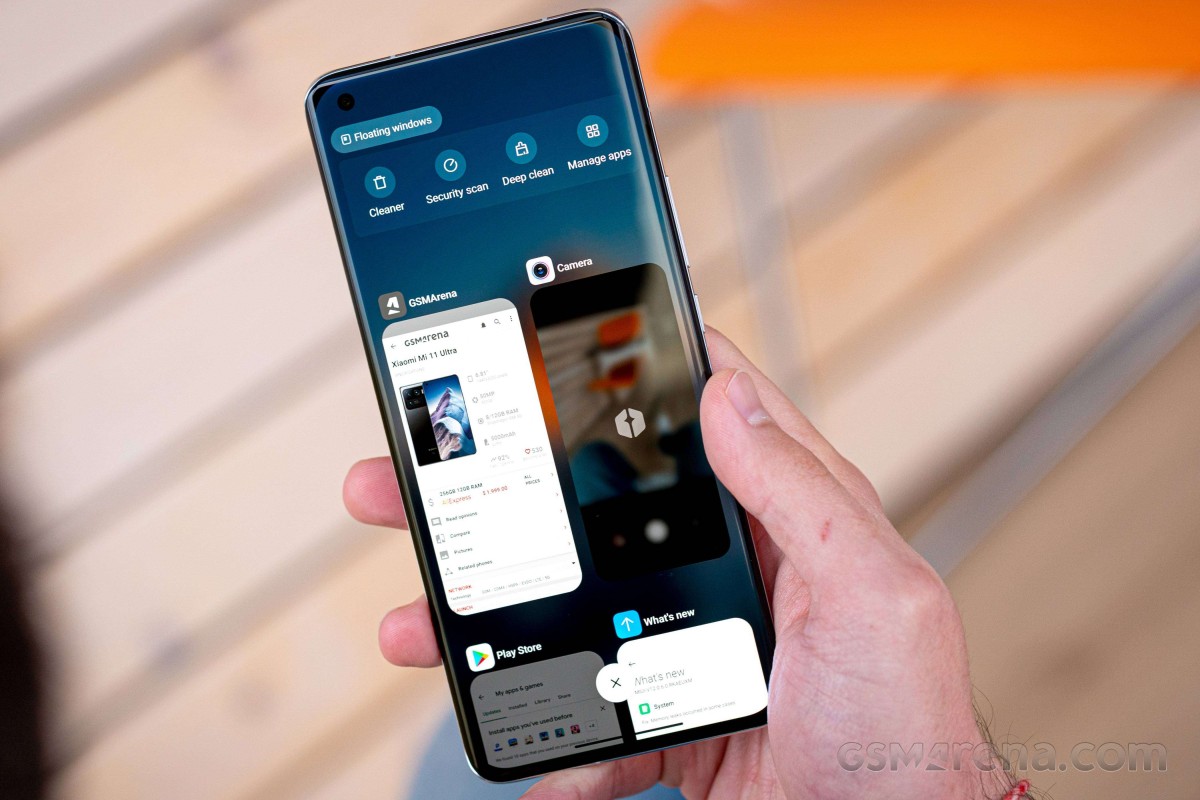 MIUI has some helpful settings. One great example of this is how it handles Data Roaming scenarios – you can enable data roaming for all apps, or you can have it on for a handful of them, preselected by you – this is handy if you have a limited amount of data available.
But MIUI can also be a hindrance. The Mi 11 Ultra would disconnect my Galaxy Watch3 every day, and it wouldn't reconnect again. I fixed this through lots of back and forths, but it involved more than disabling MIUI's battery optimizations. This brings us to the chapter below.
Battery life is unimpressive, charging makes up for it
Coming from a Galaxy S21 Ultra with a 5,000mAh battery to the Mi 11 Ultra with the same sized battery made me optimistic that I should expect similar performance. But I didn't get it.
A quick look at our detailed battery testing shows a respectable 95-hour Endurance rating to the tune of 15 hours of video playback and 11 hours of browsing. But in my very personalized testing, the Xiaomi Mi 11 Ultra was underwhelming.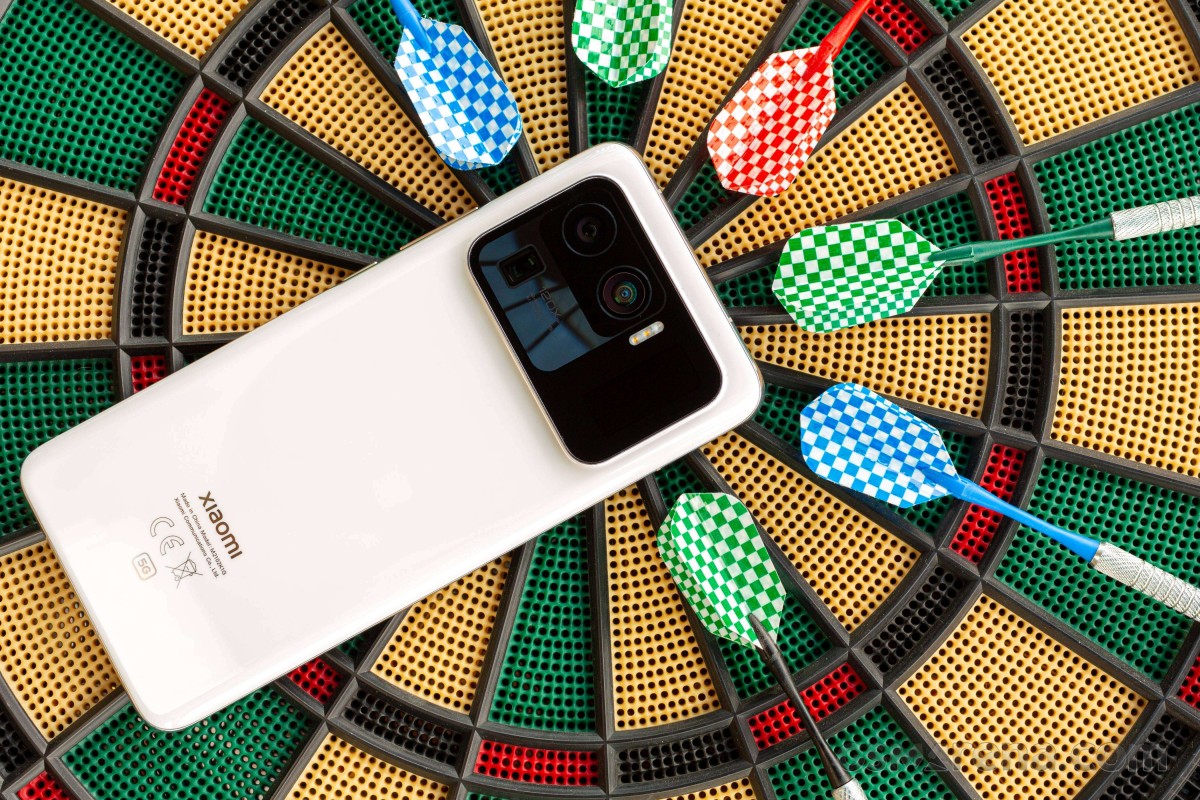 It does fine on days where I get out of bed, go to work, use the phone for about an hour, go home where I use it for three to four hours, and go to bed when it sits on a charger all night. But for vacation days where I start using it from the morning till late evening, snapping an unreasonable amount of photos and relying on it for navigation, the Mi 11 Ultra shuts down before I do.
I average about 3 and a half hours of screen time per day, and the Xiaomi Mi 11 Ultra can handle it if I don't take a lot of photos or do more than an hour of GPS navigation. Most days, I got along with what a single charge could provide, while others, I needed a top-up.
To its credit, the Mi 11 Ultra's crazy-fast charging makes up for this. It gets from 0% to 100% in 37 minutes and even faster when I need to top it up from 40%.
The phone gets very warm while quick-charging and takes a while to cool down afterward, which makes it uncomfortable.
Fingerprint scanner
The optical fingerprint scanner on the Xiaomi Mi 11 Ultra is very accurate but not the fastest. Like other Xiaomi scanners, it takes a bit longer than a Realme or OnePlus instant optical sensor or the ultrasonic sensor on the Galaxy S21 Ultra. That 'a bit' is measured in milliseconds and isn't a big deal – you'll be fine with this scanner.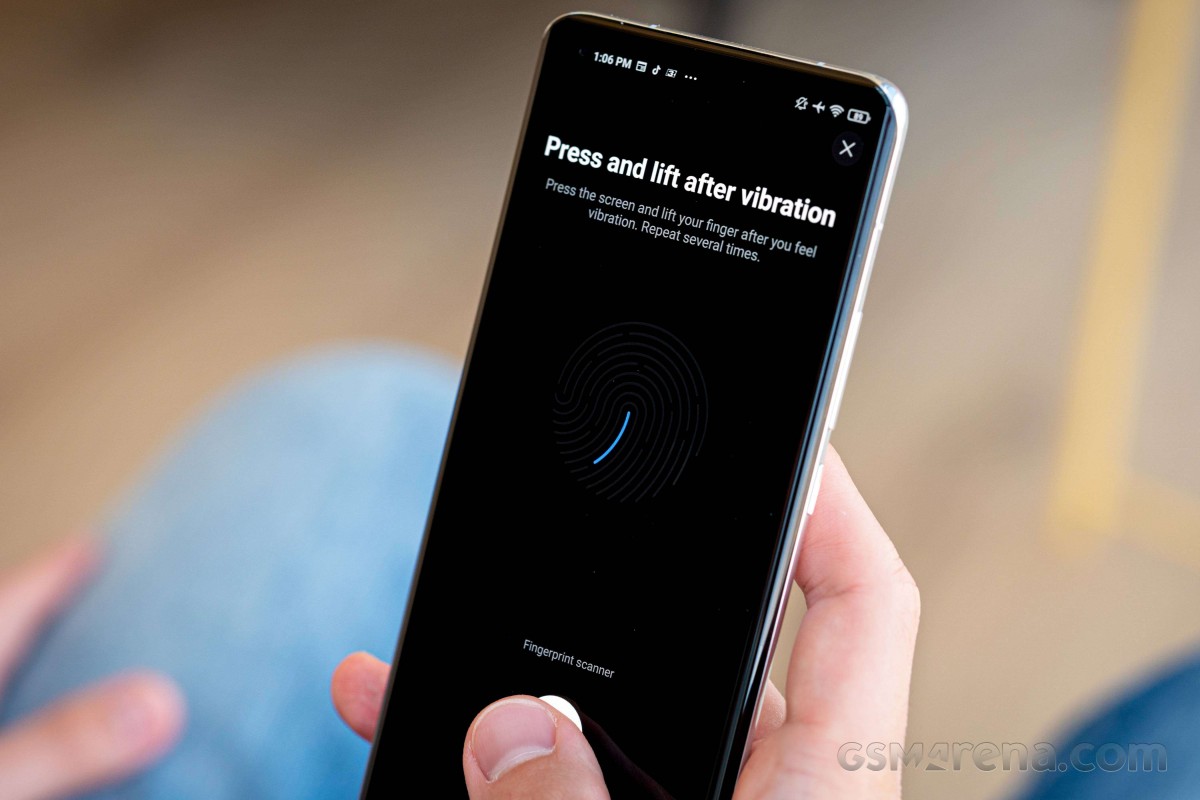 The best camera hardware around
Now, we've come to the meat of this phone. The cameras are what keep me using the Xiaomi Mi 11 Ultra and not going back to the Galaxy S21 Ultra or switching to an iPhone or a Pixel. As subjective as camera output is, the Mi 11 Ultra's pure technical brilliance is undisputable.
To recap the specs, the Mi 11 Ultra has a 50MP main sensor that's the largest and used in a phone today, and a pair of 48MP cameras – one an ultrawide at 12mm and the other a 120mm zoom. All three sensors are big, and two of the lenses are relatively bright at f/2.0 and f/2.2.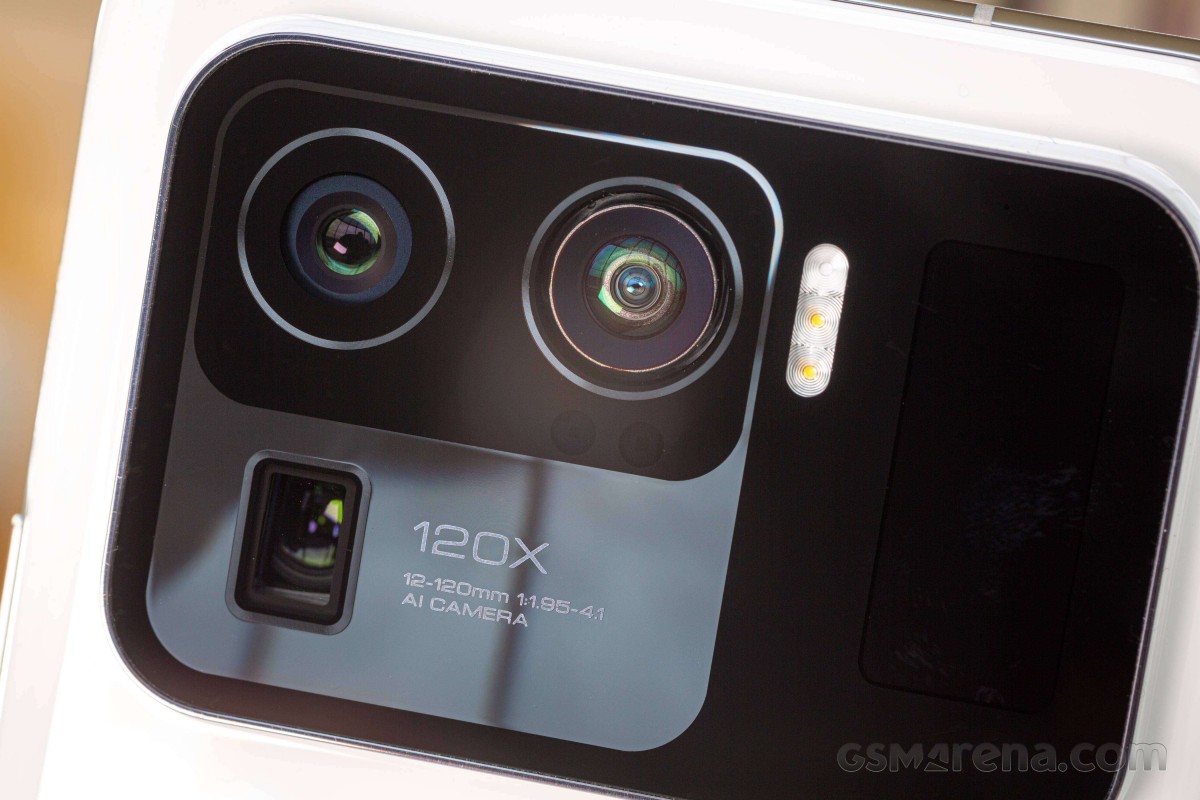 I'll get my few grievances with these cameras out of the way now so I can focus on the good later. The selfie camera is fine if not special. It snaps detailed selfies with superb dynamic range, but its output lacks contrast, and skin tones are washed out. So I used the second screen on the camera island as a tiny viewfinder to take selfies with the main camera.
If there's a human subject, the phone applies processing to it, making it 'pop' in the image. It's overdone in cases with strong light, but has a dramatic effect. Speaking of dramatic effect, taking selfies with the extra-wide 12mm camera makes for some fun times!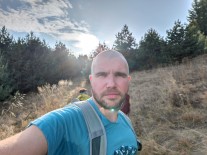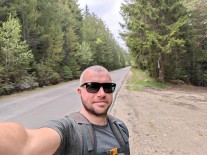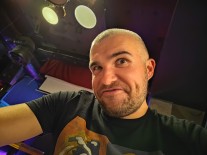 Xiaomi Mi 11 Ultra main camera selfies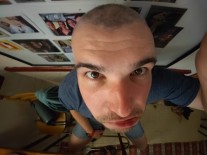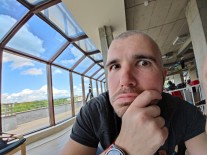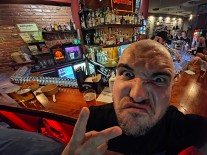 Xiaomi Mi 11 Ultra ultrawide selfies
Shutter lag on the Xiaomi Mi 11 Ultra is a problem, unlike on the Galaxy S21 Ultra or iPhone 13 Pro. You have to be mindful that there's a second after you've tapped the shutter before the Mi 11 Ultra will capture the scene. And if you use the second screen as a viewfinder and the volume button as a shutter, by default, the Mi 11 Ultra will do a 2-second countdown before taking a photo, making the whole process even slower. But you can set the volume button to take an immediate photo.
The Mi 11 Ultra would sometimes crush the shadows in a scene (like in the second sample) to produce a contrasty photo – I like that. But in most situations, the Xiaomi Mi 11 Ultra's photos have a flat look. Dynamic range is wide, exposing both the darker and the brighter parts of a scene. The output from the main sensor is closer to a dedicated camera than any other phone. The fine detail in leaves or grass, or the texture of a building's wall has a 'real camera', 'big sensor' look. There's even a healthy helping of natural bokeh from the main sensor and lens combination that surpasses rivals. And there's no noise in any of the Mi 11 Ultra's images – both in good and bad light. Colors are mature and not oversaturated and while textures are sharp, they lack a bit of micro-contrast.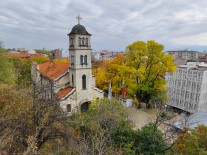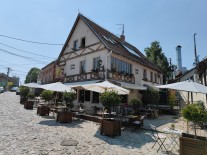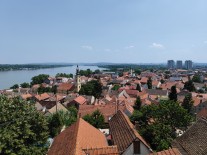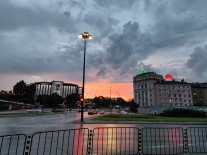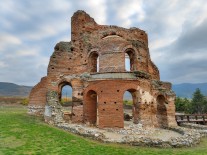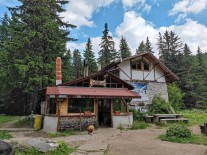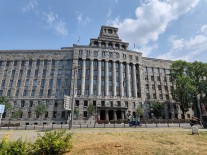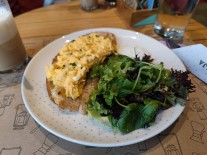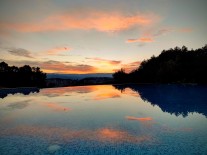 Xiaomi Mi 11 Ultra main camera
All that is to say that the Xiaomi Mi 11 Ultra's photos have a grown-up, very natural, and not overprocessed look, staying true to real life. But that's not the way I like my photos.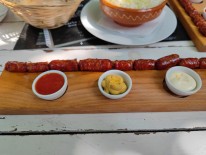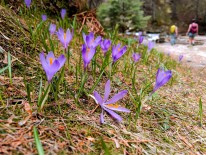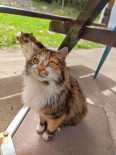 Xiaomi Mi 11 Ultra main camera
I like images with contrast – both between shadows and highlights and also between colors – I edit most of my images in apps like the mobile Adobe Lightroom or Google Photos, to suit my specific preferences. Almost all images on this page have been edited by me. To its credit, the Mi 11 Ultra's subdued output provides pliable files with a great deal of editable information. If you, like me, prefer photos with a bit more pop, then the Mi 11 Ultras default output isn't the best choice.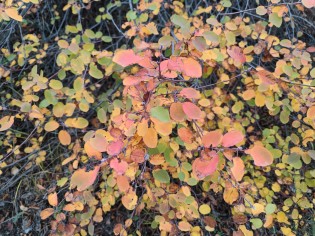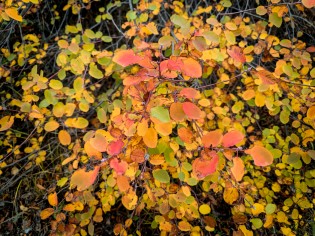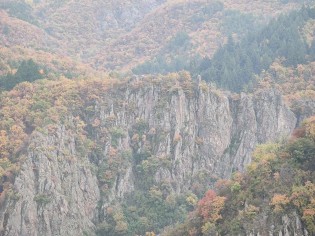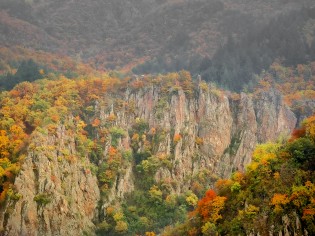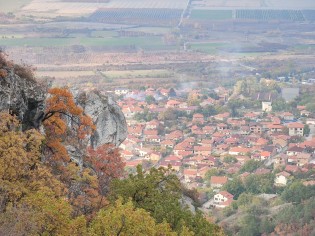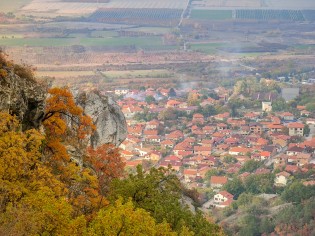 Xiaomi Mi 11 Ultra default output vs edited
Xiaomi has matched the style of processing of the main cam to the zoom and ultrawide, despite their smaller, if not small by itself, size. The periscope offers the best zoom images this reviewer has seen. Being a 5x telephoto, its images have that lovely perspective compression that makes scenes appear different from what our eyes see.
The ultrawide is the widest on a flagship phone. At 12mm, it's 1mm wider than the Galaxy S21 Ultra or iPhone 13 Pro, which may not sound like much, but it is noticeable. Even after distortion correction, lines aren't very straight. But this is a non-issue in my view – you want a striking perspective from an ultrawide, and this one delivers it like no other.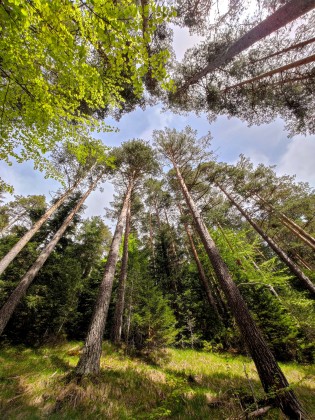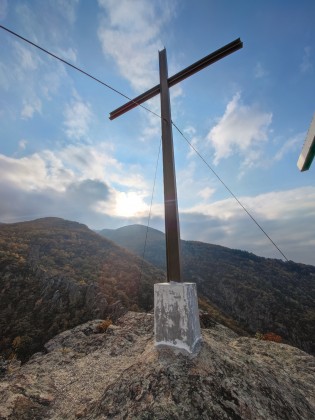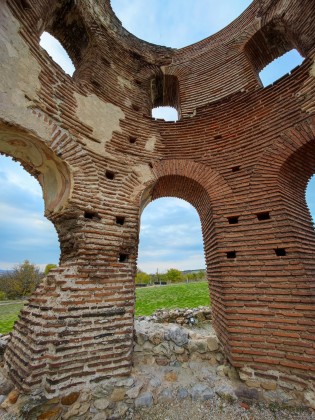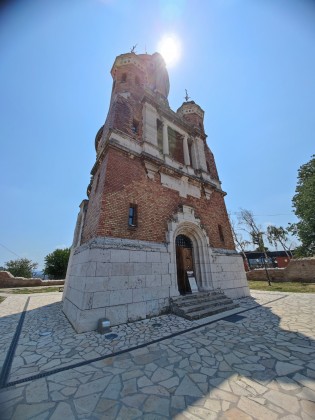 Xiaomi Mi 11 Ultra ultrawide camera
Nighttime images are excellent from all of the Mi 11 Ultra's cameras. Shadows are brightened without noise, highlights are well-controlled, and colors and white balance are just right, no cast, nothing.
Buy, no buy?
If this long-term review has sounded overly positive, that's because this phone is that good. It's a pleasure to use, and it rarely performs less than flagship-worthy. But I am fortunate to be able to use the very best phones in the world at no cost thanks to my incredible job here at GSMArena.com. Buying this phone is a whole other decision entirely.
Unlike the Mi 10 Ultra, the 11 Ultra is globally available, but that doesn't make it readily available. Some markets in Europe are stocked with the other 11-series smartphones by Xiaomi, and you'd need to import the Ultra from abroad. And where you can find the phone in stock, it's very expensive. At the time of writing, it commands a £999 price in the UK and €1,200 in Europe, meaning prices haven't budged at all since the Mi 11 Ultra went on sale.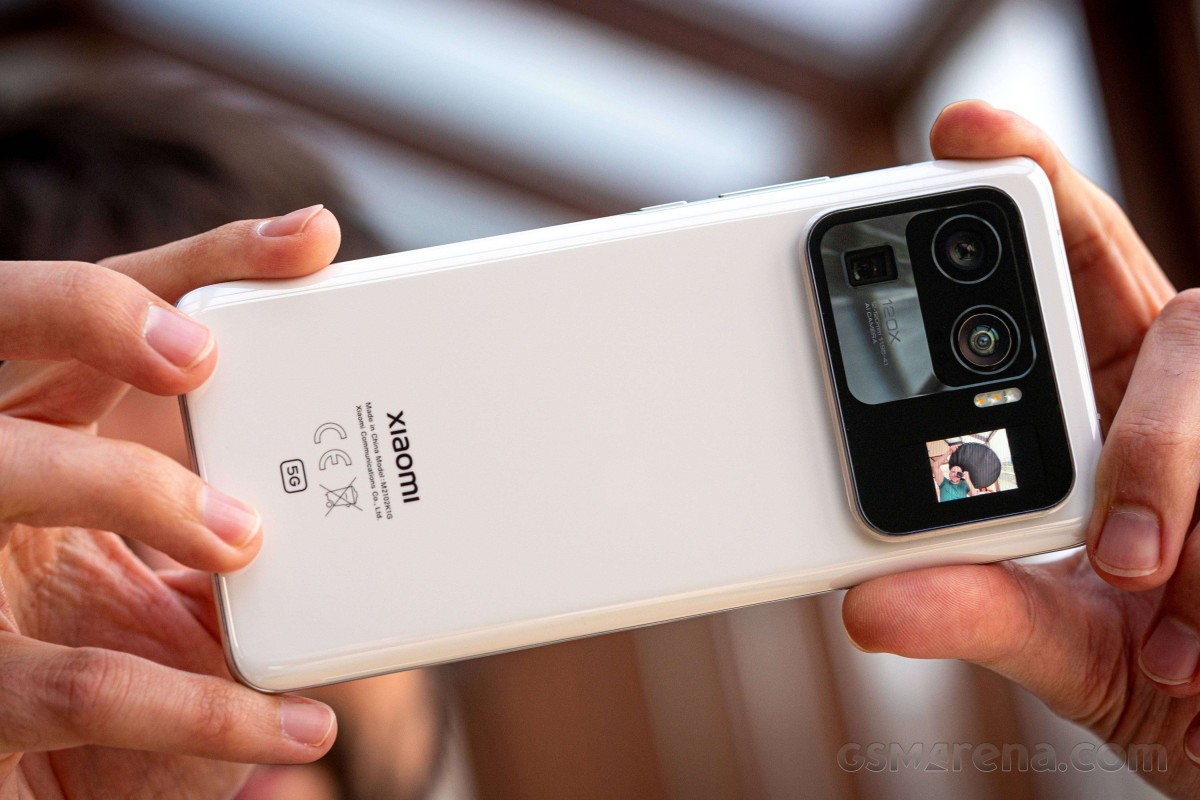 That's a lot of money to pay for a phone, especially one that's close to being replaced (the Xiaomi 12 is due early next year). Is it worth it? It's this reviewer's view that it isn't, no. Not at full retail price, at least.
Phones like the Galaxy S21 Ultra have been around for as long as the Xiaomi Mi 11 Ultra, but have received price cuts, which makes them better deals at the moment. And others still, like the Google Pixel 6 Pro are already available for less money.
Verdict
The Xiaomi Mi 11 Ultra is a superb phone, but it doesn't make sense to pay the full amount for one, seven months into its life cycle. If you can find the flagship at a discount, sure – go for it!
There aren't a set of cameras that can equal the Mi 11 Ultra's three rear ones. There are phones that can zoom more, but with compromises in image quality. And while some phone cameras might be better in specific aspects than the Mi 11 Ultra's, none will match it as a whole – it's that good.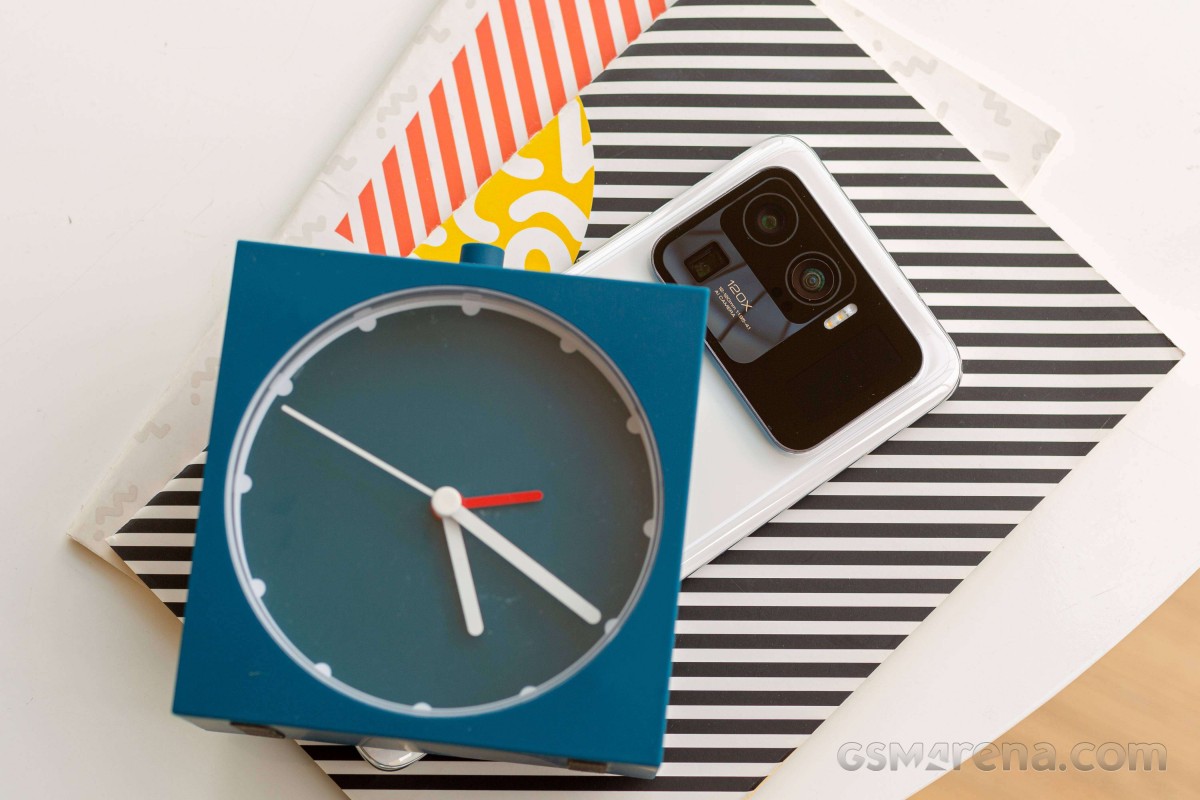 You're also getting the best smartphone chip on Android's side, the fastest charging, and reasonable battery life. The uncompromising build quality is undeniable as well.
If you're in the market for a high-end phone at the end of 2021, there are only a handful with as many good qualities, and outside of the iPhone 13 Pro Max, none reaches the level of sophistication the Mi 11 Ultra brings.
But at its limited availability and high price, it's better to go for a Galaxy or Pixel that nearly match what the Mi 11 Ultra is capable of, but do so at a lower price.