The latest edition of Nintendo's popular paint shooter plays it safe, but that's more than enough to satisfy Post Arcade Jr.
Article content
Score: 8.5/10 
Platform: Switch
Developer: Nintendo
Publisher: Nintendo
Release Date: September 9, 2022
ESRB: E10+
Article content
Nintendo's Splatoon franchise will always hold a special spot in my daughter's heart.
Article content
When Splatoon launched in 2015 she was 10, and it was her introduction to shooters. She loved its paint splattering mechanics (the goal of the game is to use paint guns to splash as much of your team's colour around an arena as you can) as well as its cute, cartoonish vibe. When the sequel launched in 2017 she was heading into eighth grade. She and a friend entered a Nintendo-sponsored Splatoon tournament in which they won first prize: Brand new Switches along with copies of the game. Years from now she'll be telling her kids about how the final match came down to just a few percentage points of paint spread. It's her college football story.
Article content
Now that Splatoon 3 is here, she's as excited as one might expect — though her more mature, 12th grade brain has allowed her to see it with a slightly more critical eye than when she was a tween.
Our review of the latest entry in Nintendo's popular splatterfest is going to take the form of a conversation she and I had after spending about a week playing the game pre-launch with other journalists and developers. TLDR; she loved it, but is now more aware of some of the series' minor shortcomings.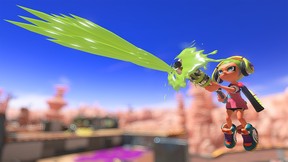 Post Arcade Jr.: It feels like a fully finished game.
Post Arcade: Sorry?
Post Arcade Jr.: I'm telling you the things I like. Keep up.
Post Arcade: Oh, okay. Let me start typing.
Post Arcade Jr.: So like I was saying, Splatoon 3 feels complete. The new additions are more significant than what we had in Splatoon 2 at launch. They make it feel like a finished game.
Article content
Post Arcade: Explain.
Post Arcade Jr.: In my head I sort of picture all three games stacked on top of each other, newer ones filling in the holes of the previous ones and gradually levelling things out. This one does an especially great job of patching all those holes and just making a flat, smooth, fun experience with very few bumps.
Take the new lobby arenas. In the other games when you started a match you'd have to just stare at a list of player names, which always made me lose interest and pick up my phone. But now we can spend that time practicing with weapons and see other players doing the same. Way more fun.
And it addresses a complaint that I've seen pop up on Splatoon Reddit for years. In the first two games you couldn't skip the squidcasts that explain what's currently going on in the game when you start playing. Now you can watch them or choose to ignore them. Simple, but another nice quality-of-life upgrade.
Article content
Then there's the new Tableturf Battle deck-building mini-game. It's an entirely different sort of thing for the series that makes players think in new strategic ways, both offensively and defensively. It's nice to have another activity besides just shooting.
And it adds way more customization options. You know I've always loved Splatoon's visual style and how we can customize our avatars. Now they've added the ability to personalize a locker full of gear, which is a smart, real-world sort of thing that I think kids can identify with.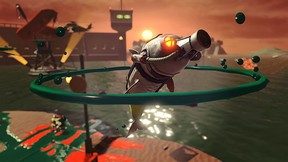 Post Arcade: Wow. That's a lot of stuff you just powered through. We'll need to circle back on some of it. But I think I mostly agree. It does feel like a much more finished game at launch–even knowing that some modes, weapons, and other features are being held back for paid downloadable content.
Article content
But in some ways it also seems to me like a more-of-the-same sort of scenario. The mechanics and level designs feel very familiar. Though I suppose that can be said about most shooters. I mean, only hardcore fans are going to notice many of the subtle differences between back-to-back Call of Duty games.
That said, I still see one or two holes. For example, I'd really like a split-screen mode so that friends could play together on a single console with a couple of controllers in the same room.
Post Arcade Jr.: Okay, this feels like a fever dream from when I was in, like, grade four, but I remember in the original Splatoon that two people could play locally on one console; one with the Wii U controller, which has its own screen, and the second playing on a TV.
Article content
Post Arcade: What? No. [Jumps online and searches "Splatoon Wii U local multiplayer."] Well, crap. You're right. It did have one-versus-one play on a single console. Looks like you shot balloons or something.
Post Arcade Jr.: Don't feel bad you don't remember. I mean, it wasn't really memorable. It was basically just a tutorial. We hardly played it. And you're right. It seems like couch multiplayer is a market Nintendo has ignored with Splatoon, which is weird because so many of their games have great couch play. And so much of the Splatoon experience is locked if you can't play online for some reason. And not all families can afford to buy Switches and multiple copies of games so brothers and sisters can play together. Local split-screen play would solve that.
Article content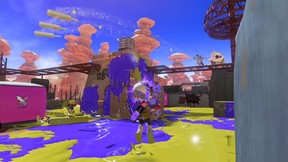 Post Arcade: Maybe the Switch just doesn't have the horsepower for it. Let's move on to the campaign. I don't know that I've actually finished a Splatoon campaign, but I know you have. What's your take on Splatoon 3's solo stages?
Post Arcade Jr.: I'd like to start by telling you for a fact that you finished the campaign in Splatoon 2.
Post Arcade: What? How do you know?
Post Arcade Jr.: When we were driving to Chicago on a family trip you spent the whole ride working your way through the campaign and ended up unlocking some sweet gear. I was super bitter that you beat me to it.
Post Arcade: Cool! Why worry about my failing memory when I have your fresh young brain as a backup? But clearly I'm still not the best one to compare Splatoon campaigns…
Article content
Post Arcade Jr.: I'm not finished Splatoon 3's campaign yet, but I like it so far. The last two story modes have sort of been the same. The Great Zapfish, which powers the Inklings' city, was stolen in both. In this one, it starts off looking like it will be a similar plot, but a few stages in we're taken to Alterna, a new world that introduces some new types of mechanics and challenges I haven't seen before in solo mode. It's not as fun as multiplayer, but I'll definitely come back and finish it.
Post Arcade: We'd be remiss not to talk about weapons. There's tons of new ones in Splatoon 3, and many seem meaningfully different compared to what's come before. Like the Splatana, a windshield wiper blade that flings ink, the Ink Vac, which sucks up incoming enemy paint to charge up a powerful return volley, and the Tri-Stringer, a whole new class of bow-based weapons that shoot thin strings of ink.
Article content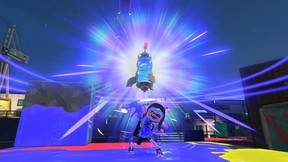 Post Arcade Jr.: I'll always love the Splat Dualies the most, but do I really like a lot of the new weapons. I'm taking archery lessons, so the Tri-Stringer is my little baby. I haven't liked weapons that were similar to it–like sniper rifles–in the previous games, but this is effective at both medium and long range, and shots can be charged to explode on impact. Good stuff.
And I've been learning lightsaber tricks, so I really like using the Splatana as well. It's kinda similar to the Octobrush since it's sort of a melee weapon. But I need to use it more to really figure out its secrets.
I guess they're really speaking my language over at Splatoon Inc. these days! Was that too much of a pun?
Post Arcade: Naw. Good puns sell papers.
Article content
The one thing we've glossed over so far that I really want to talk about before wrapping up is Tableturf Battle, the deck-building mini-game. It appeals to my love of turn-based strategy. It's basically what you'd get if you combined Splatoon's main mode, Turf Battle, where you try to cover as much of the arena in your colour of paint as you can, with Blokus, a board game where you place coloured tiles on a grid. Then it spices things up with slowly charged special abilities that can turn the tide in an instant.
Post Arcade Jr.: I don't usually like card game mini-games, but there's something about Tableturf Battle that's sticking with me. It's simple to understand, but has some underlying complexity that I really like. I'm not turned off when I lose because I usually understand why I lost. And I get excited when I earn new cards for my decks–though it feels like if you're good enough you can probably win most of the time with the starter deck.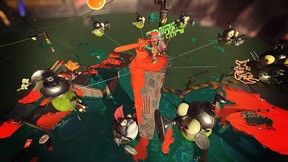 Post Arcade: Yeah, I think that might be a hallmark of a good card game. Skill trumps luck.
So, what are you going to score this one? Out of ten, like usual.
Post Arcade Jr.: You know I prefer a two-point scoring system where zero is bad, one is fine, and two is great. This is a really high one. Nearly a two.
Post Arcade: "A really high one?" That's why we use a ten-point system. Allows a little more precision.
Post Arcade Jr.: Fine. Then like an 8.5.
Post Arcade: I'd probably go half a point lower, but I think you're the target audience, so 8.5 it is.
Post Arcade Jr.: Or a really high one out of two.