Let's be honest here, Google's Pixel phones are sort of infamous for experiencing issues. It's actually become a bit of a meme within the industry and a self-fulfilling prophecy in recent years, though definitely for good reasons. The shiny new Pixel 6 and 6 Pro are no exception either. It didn't take long after their launch for the first reports of green screen tint, flickering and punch hole weirdness to start pouring in.
Now in a fairly new and still very much developing situation some users have been reporting that their Pixel phones are randomly placing calls to people in the contacts list. You can read some of the first-hand recounts in this Reddit thread. We've been combing through a few sources of info on the matter and will try our best to summarize the situation, though some reports are still scattered and a bit confusing.
Most sources seem to agree that the calls themselves are actually being placed by the Google Assistant. It falsely believes that the user has issued a "call somebody" style voice command. Some users have reported this happening while there was chatter in a language the Google Assistant is unfamiliar with around the phone, which is an issue, but also understandable. However, most of the prominent reports describe a silent environment, even the middle of the night while the user is sleeping. Some affected users with Google Activity history enabled on their accounts have even gone into the archive to listed back to the recordings that the Assistant says triggered the calls and found that "it sounded nothing like" a command to call someone. Even the "Hey Google" hot word wasn't uttered. So, that is clearly part of the problem right there.
Our colleagues over at 9to5Google have been experiencing some of the weirdness themselves and potentially shed further light on the matter with a certain Assistant behavior they have managed to recreate. As you can see in the above video, the Assistant sometimes has trouble interpreting the first command it is given after you unlock the phone. It takes a long time to process and very often "defaults" to a call command, with a random name from your contacts list. Interestingly enough, a reboot of the device sometimes temporarily fixes the issue and some other users have speculated that it is due to historical data or cache, messing up the Google Assistant. Likely data from a previous device backup.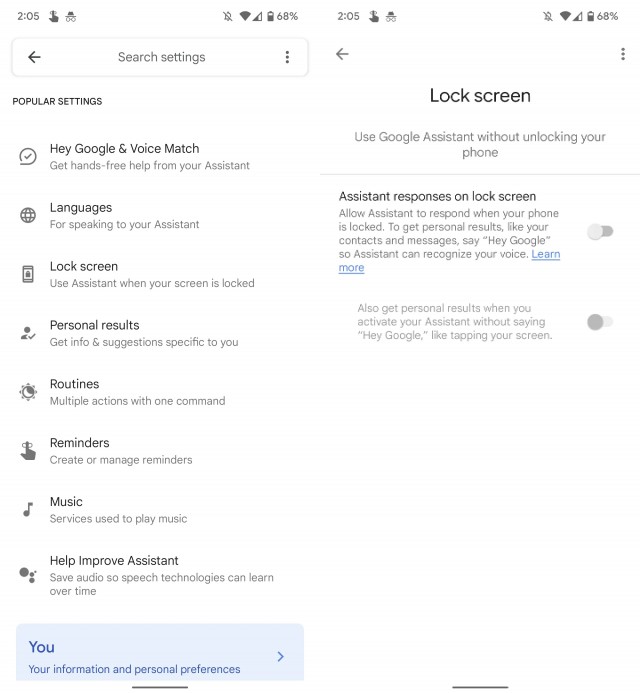 Assistant response on lock screen setting
The final little bit of the puzzle further explains why this was happening to locked Pixel phones in a quiet room. That apparently has to do with the option to have "Assistant responses on lock screen", meaning that the phone would always be listening for the "Hey Google" trigger, mistakenly detect it and then the whole "first use after unlock bug" explained above would play out. A temporary fix for part of the problems is to just disable "Assistant responses on lock screen".
But the room was silent and there was no "Hey Google", you might shrewdly remark. Well, some of the reports we read have claimed that the bug occurred even when the phone's microphone was turned off from the privacy toggle in the notification shade. Which means that either the bug does not actually require a microphone input or that Google is ignoring its own privacy switch? Either way – not great.
Here, I just fired up Assistant and said nothing.

After a few sec, it wanted to Call James and even asked me "mobile" or "work." If there was only one number, it'd have called James by now.

This is 💯 it. Something triggers Assistant, then it decides to call someone on its own. pic.twitter.com/mpc50rpBeg

— Artem Russakovskii (@ArtemR) November 5, 2021
In any case, at least unlike many of the other issues, this one does not appear to be hardware related and is hence a bit less worrying in the long run. In fact, we even read some reports of older Pixel 3a and 4a devices also experiencing the bug. Also, Google is apparently already "aware of this issue" and "working on an immediate fix". So that's good to hear.