Shares have dropped 70 per cent this year
Article content
Shopify Inc., the Ottawa-based e-commerce company, said it lost US$1.5 billion in the first quarter, compared with net income of US$1.3 billion in the same period a year earlier, setting up Canada's most accomplished digital technology for further punishment from investors.
Article content
With results this poor, some may question Shopify's decision to acquire Deliverr Inc., a logistics firm, for US$2.1 billion, a rumoured purchase that was confirmed on May 5. The acquisition suggests Shopify's ambitions to expand beyond its core business of building websites for independent businesses has been unaltered by the 70-per-cent drop in the company's share price this year.
"Today we're announcing the acquisition of Deliverr, our largest acquisition yet, to strengthen Shopify's fulfilment network, and accelerate our path to an end-to-end merchant supply chain solution," Harley Finkelstein, president of Shopify, said on a call with analysts.
The company is putting a focus on improving fulfilment for merchants, as its rapid growth in recent years has put it in competition with Amazon.com Inc., the e-commerce behemoth that has trained North American consumers to expect fast delivery.
Article content
"Our goal is to not only level the playing field for independent businesses, but tilt it in their favour — turning their size and agility into a superpower," Tobias Lütke, CEO and co-founder of Shopify, said in a press release. "Together with Deliverr, Shopify Fulfillment Network will give millions of growing businesses access to a simple, powerful logistics platform that will allow them to make their customers happy over and over again."
Lütke is pushing forward with his expansion plans without the benefit of the tailwind that allowed Shopify and other other e-commerce companies to collect windfalls during COVID-19 lockdowns. Shopify earned revenue of US$1.2 billion in the first quarter, a 22-per-cent increase from a year earlier, but short of consensus analyst expectations of US$1.25 billion, according to Bloomberg News.
Article content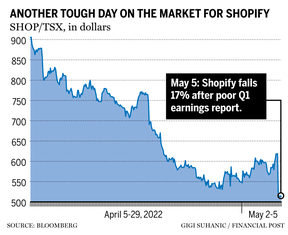 CFO Amy Shapero said revenue was influenced by the normalization of e-commerce growth now that pandemic restrictions have been eased and higher costs from surging inflation. The company said it expects revenue growth to pick up by the fourth quarter, and said it plans to "reinvest all of our gross profit dollars back into the business to pursue our multiple paths to growth."
Shopify's stock price plunged when markets opened in Toronto and was down about 17 per cent at midday.
While adding Deliverr this year will impact profitability in 2022, it's well worth it

Harley Finkelstein
Deliverr is a big bet for Shopify, but one that could allow it to stay relevant as more established retailers such as Amazon and Walmart Inc. continue to expand. Business Insider reported in 2019 that using Deliverr, "…anybody can now offer free two-day shipping on Walmart.com — and Amazon should be worried."
Article content
"Supply chain management and fulfilment are some of the biggest challenges merchants face running their businesses," said Finkelstein. "While adding Deliverr this year will impact profitability in 2022, it's well worth it," he added.
The acquisition fits with Shopify's broader "merchant-obsessed" approach, which tends to put innovation and long-term value creation ahead of short-term profits. "Because Shopify is still growing its merchant base and developing new products, the company is not being run for profit maximization currently," Veritas Investment Research Corp., an independent Canadian equity research firm, said in a recent research note.
Article content
"The low level of profitability is not due to Shopify having a poor business model, but rather from the company investing back into continued merchant growth and development of new offerings," said Veritas, which re-upped its "buy" recommendation, estimating the stock's value at roughly $1,400, compared with its current value on the S&P TSX of about $525.
"Shopify's share price decline does not change the fact that, as a leading e-commerce platform, the company still has opportunities to further monetize its merchant base," said Veritas.
As to whether or not Shopify's development initiatives would ultimately be enough to recoup the company's losses, Veritas said only time will tell.
"What is less certain is when Shopify will begin to generate more meaningful profits and cash flows, especially if its fulfilment initiative gains merchant traction and requires further investment."
Article content
More certain is that Shopify's trajectory will be decided by its founder, Lütke, who famously started the company in 2006 out of frustration at trying to set up an online store for snowboards.
In April, Shopify's board of directors said it intends to give Lütke a "founder share" that would given him 40 per cent voting power. The management structure would be unusual, but Lütke indicated that he thinks he erred by opting against it at the time of Shopify's initial public offering.
"To be perfectly honest, we were in a bit of a rush when we decided to IPO back in the day," Lütke said on the analyst call. "We took a structure off the shelf without contextualizing it to what we really would like," he continued. "Shareholders can get some assurance that this is really a structure supporting the sort of founder-ledness of a company by creating like a service-based requirement for my involvement. It's a proposal designed to be accepted, obviously… the board thinks this is a better governance structure for the future."
• Email: mcoulton@postmedia.com | Twitter: marisacoulton