Ontario company Avidbots makes cleaning robots that are helping to fill gaps in company staffing needs
Article content
Cuenca is an Ecuadorian city of artists, a pulsing music scene and perfectly springlike average monthly temperatures of 20 C or so. Snowfall, in any amount, is regarded as an extreme weather event, which is why Pablo Molina was completely unprepared for Canadian winter when his family immigrated north in 2005 following his initial year of university in his Andean hometown.
Article content
Molina, a creative soul whose outlets of expression vary from playing keyboards in bands to building robots with real-world applications, didn't like snow. He especially didn't like shovelling snow, a disdain wedded to a determination to start a robotics company with his University of Waterloo engineering buddy Faizan Sheikh, which led to a meeting with an Ottawa-area snow removal contractor at a Starbucks nine years ago.
Article content
The aspiring entrepreneurs wanted to build robots that could shovel snow and the contractor listened to their pitch before politely pointing out a few things: shovelling is seasonal and winters are unpredictable, as is the snow removal business. Canada is known for its winters, he added, but much of the world has no winter to speak of.
Article content
The snow removal expert then gestured in the direction of a big-box store next to the coffeeshop and said it was swept clean — nightly — and that the 20-something-year-olds should consider applying their robotic know-how to indoor sanitation.
"It was a key moment," Molina said. "I remember that meeting like it was yesterday."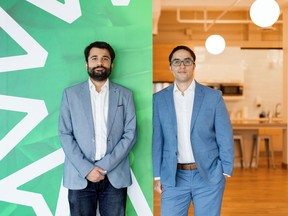 These days, Molina, Sheikh and Avidbots Corp., the "autonomous" floor cleaning robot company they co-founded in 2014 are, well, looking to sweep the planet, or at least that portion of it — airports, warehouses and big-box stores — with acres of floorspace in need of a good scrub.
The company's robots, which sell for about US$50,000, resemble miniature Zambonis minus the human drivers. There is a chance one is working the nightshift somewhere near you, since North America is the company's primary market, and it recently celebrated its 1,000th robot shipped.
Article content
The venture-capital crowd certainly seems impressed, and in September stepped up with a US$70-million funding round led by Jeneration Capital Management, which typically invests in Chinese technology companies.
Tony Zhang, a partner at Jeneration Capital, said society is "at an inflection point," and that a rapid shift from humans wielding mops and pails, or riding atop a cleaning machine, to robots doing the dirty work is underway. He anticipates commercial cleaning robots will evolve into a US$10-billion annual market.
The gizmos are on the march, in other words, propelled along by progress, profits and the desire for increased productivity. Driverless cars, robotic assembly lines, automated dairy cow milkers and autonomous cleaners all are examples of machines doing things that humans can do, but in some cases no longer do for one reason or another.
Article content
But don't count humanity out just yet.
"Will there ever be a future state where humans are obsolete? That's the stuff for movies," John Trougakos, a professor of management and future-of-work expert at the University of Toronto's Rotman School of Management, said. "As we develop new technologies, we also develop new opportunities, and this is a pattern we see in history."
Will there ever be a future state where humans are obsolete? That's the stuff for movies

John Trougakos
For example, the automobile spelled the end of the horse and buggy, but it also marked the beginning of auto shops, parts makers, gas stations and other spinoff businesses and technologies.
Robots that clean floors still require humans to program them, ship them and troubleshoot software glitches. It is not us-versus-them, rather, humans are ceding the floor to robots so we can focus our energies elsewhere.
Article content
Take CVG Airport Authority, which operates a major international hub on the outskirts of Cincinnati. It's among the early Avidbots adopters, having initially deployed the Canadian-made robots before COVID-19.
The business case to support going autonomous was entwined in the practical needs of a busy place with heavy volumes of travellers passing through it, which can get a little messy.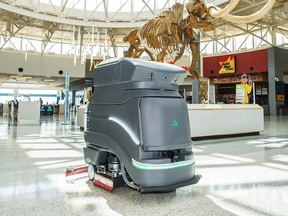 To rope off a big section of the airport so a cleaner can mop the floors invited customer complaints. To leave a dirty floor untended also led to complaints. But nobody complained once the robots showed up.
Some travellers even shot video and snapped pictures of the machines beetling about and posted it to social media, at times with comments about how clean the airport was, a particularly pertinent observation during the more angsty moments of the pandemic.
Article content
"We're quickly learning that robotics is not replacing, but filling a gap in staffing needs," Brian Cobb, CVG's chief innovation officer, said.
Humans aren't at an evolutionary end stage in commercial cleaning; indeed, on a macro-scale, they remain the robot-makers No. 1 competition.
"Our biggest competitor is cleaning manually," Sheikh said.
We're quickly learning that robotics is not replacing, but filling a gap in staffing needs

Brian Cobb
He is the more business-minded of the partners, while Molina, whom he describes as "brilliant," is the product guy. In the beginning, Molina figured building a cleaning robot would be a breeze. In practice, the variables were many.
"The real world is very messy," he said.
That world, say, a big-box store, can have cramped aisles, customers who take items down from shelves and don't put them back, random cords running here and there, smartphone signals flying around and floor plans that get altered to accommodate Thanksgiving, Halloween and Christmas displays.
Article content
"If I knew all the problems that it takes to make a robot, if I knew how hard it was, I don't know whether I would have wanted to do it," Molina said.
The fact he did do it, and that other robotics whizzes are presumably doing it, too, in other industries, could have broad implications for a labour market with an abundance of jobs that humans aren't lining up to fill.
Employers across all sectors of the economy reported close to a million job vacancies in the second quarter of 2022, according to Statistics Canada.
Article content
There is plenty of work to be done, but doing it for a modest wage — and the median hourly wage for a "light duty cleaner" is $16.61 an hour, according to Statistics Canada — when people perhaps may have other options, including in the ever-expanding gig economy, is an increasingly intractable problem.
Sheikh learned from speaking with his cleaning industry customers that employee turnover is a constant. Cleaners get hired. Cleaners quit. New cleaners come aboard, get trained and then quit, often after less than three weeks on the job. Constant churn is one reason companies started calling the guys in Kitchener to ask about the machines.
"There has been a structural shift in the make-up of the economy," Sheikh said.
The weather economy, alas, isn't quite as primed for disruption. That's not to say change isn't coming, not if Molina has anything to do with it. The Ecuadorian expat still disdains winter. However, he now has a perfectly Canadian garage complete with a workshop and an early rendering of a snow removal robot that never got to market.
"I hate shovelling snow," he said. "I want to do something for my front yard, and, someday, I will have time to get back to it."
• Email: joconnor@nationalpost.com | Twitter: oconnorwrites