Sony's second generation VR hardware is a marvel of usability, but can game makers unlock its full potential?
Article content
Upon unboxing the PlayStation VR2, Sony Interactive Entertainment's long awaited second kick at the virtual reality can due out Feb. 22, the first thing anyone who has previously used a VR kit is likely to notice is its simplicity.
Article content
A headset, a couple of controllers, a set of earbuds, a USB cable, and a thin little user manual: that's all that's in the box and everything a PlayStation 5 owner requires to get started.
Article content
The luddite intimidation factor is almost non-existent.
This almost Apple-like user friendliness continues through setup. Just plug in the headset, follow a few minutes of onscreen instructions to pair the controllers and let the camera work out the dimensions of the room you're in, and you're ready to play.
It's a far cry from the complexity of the original PlayStation VR kit, which — because it was an aftermarket technology bolted onto the existing PlayStation 4 — required a mess of cords and devices, some of which (like the camera and controllers) weren't even included with the basic VR hardware package.
Article content
The PS VR2, on the other hand, was developed in tandem with PlayStation 5. This clearly allowed designers to prioritize ease of use, creating a true plug-and-play experience. It's far and away the simplest VR setup I've yet encountered — a major boon for a technology often criticized for its inaccessibility.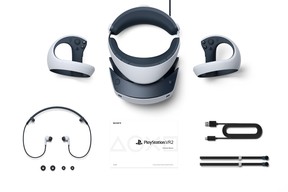 Once I had the headset on I was able to begin appreciating some of the other quality-of-life improvements Sony's engineers made between hardware iterations.
The physical controls for visor lens depth and head strap firmness, for example, let me easily adjust and comfortably wear Sony's second generation device (which is also a bit lighter than the original) for a couple of hours at a time, even while wearing prescription glasses. I also found the accordion-like light shield to be more effective in blocking unwanted outside light from penetrating the headset.
Article content
Then there's the new eye-tracking feature. It's optional, but when switched on, this neoteric tech can track with amazing accuracy what your eyes are focused on at any given moment, making it possible to do things like select menu options with your eyes and aim more precisely with weapons. The only initial setup it requires is looking at a few dots on screen as directed.
The headset also has haptic feedback (read: rumble motors). I've yet to really notice it while playing, but apparently it will be used to do things like transmit the swoosh of an arrow rushing past your character's head, or perhaps feel a pulse in your temple during tense or scary scenes.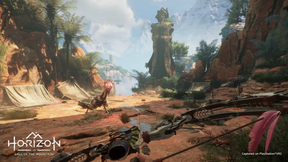 Picture quality is vastly improved over the original PS VR headset. Each eye is given its own 2000 x 2040 pixel image, which allows for much more detailed and refined visuals than anything we saw with the original PS VR. It feels like a major technological leap forward, especially when playing a visual masterpiece like Horizon: Call of the Mountain, which runs off the same engine as last year's gorgeous Horizon: Forbidden West.
Article content
An earbuds attachment plugs into and runs along the back of the headset, leaving the buds dangling right beside your canals for easy insertion and removal. No more awkward-headphones-over-bulky-VR-headset problems. Bonus: They support 3D audio, so we still get the surround sound vibe that's so important to the VR experience.
Perhaps my favourite new feature is a button under the visor that activates a camera to allow players to see the world around them without the need to remove the headset. This is marvellously handy. Not only does it let players more naturally engage with anyone who happens to be in the room with them — combatting the feeling of isolation VR users often complain about — it also makes it easier to grab a drink or a snack or just check your phone without completely disengaging from the VR experience. Plus, it can facilitate a very convincing kind of augmented reality where we see virtual elements laid over our physical surroundings, which is just as cool and futuristic as it sounds.
Article content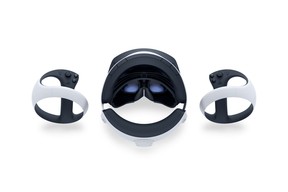 The new motion-sensing controllers, meanwhile, are fantastic. Unlike the original PS VR — which, for cost-saving purposes, made use of the PlayStation Move wands Sony originally developed for motion control games — these controllers are purpose-built and feature wrist guards, comfortable and intuitive button placements, and have separate haptic feedback outputs that allow software makers to create more realistic and immersive tactile simulations that spread from one hand to the other.
Long story short, PS VR2 is a marvel of high tech engineering focused on user experience. It's less isolating, much easier to set up and use on a regular basis, and is far more powerful than its predecessor.
The question yet to be answered is whether game designers can create compelling experiences that make this pricey peripheral — which, at $750 in Canada, is $100 more than the console for which it was made — worthwhile for consumers.
Article content
I tried 10 launch games during my evaluation, and while several are fun and innovative, I wouldn't say any of them are what might be described as a must-have, hardware-selling killer app that will sink its hooks into players and keep them coming back the way the best traditional games often do.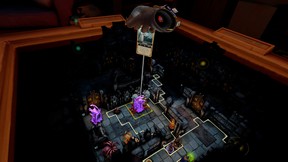 We'll publish a roundup of some launch games soon, but if you're looking to pre-order anything along with the PS VR2 kit I'd recommend Horizon: Call of the Mountain, which does a really good job of showing off everything Sony's next-gen VR hardware can do; Star Wars: Tales from the Galaxy's Edge, which lets you shoot blasters and tinker with sci-fi devices; and Demeo, a turn-based strategy game that has us move animated character pieces around a miniature dungeon set up on a table in a virtual basement.
Virtual reality remains a fascinating technology with the potential to change everything from the way we socialize online to the kinds of games we play. We'll see over the coming months and years whether Sony and its partners can figure out how to fully unlock that potential.