ln the fall of 2016 we unveiled the first Surface Studio. It was unlike anything else, and instantly captured people's imaginations. With the large and vibrant 28-inch 3:2 display, and stylish form, this product turned heads. When we showed how the Zero Gravity Hinge could transform the display into the ultimate creative canvas, people were stunned. Even today, Surface Studio has the unique ability to draw people in.
As work environments have evolved in recent years, we've seen strong ongoing demand for this elegant, powerful and versatile product. As we meet that demand, we've rearchitected our Surface Studio processing engine utilizing an updated Intel® Core™ i7 H Series processor, with up to 50% faster CPU performance. We've designed NVIDIA GeForce RTX 3060 discrete graphics to double the graphics performance, achieving the most realistic ray-traced graphics when you craft 3D designs or render models. We've enhanced and modernized the display, cameras, Studio Mics and ports – including USB-C with Thunderbolt 4. With Windows 11, Surface Studio 2+ also meets Secured-core PC standards.
Meet Microsoft Designer and Image Creator
Microsoft Designer is a new graphic design app in Microsoft 365. It's powered by best-in-class AI, including DALL∙E 2, and it's engineered to bring your creative visions to life. This is an amazing example of the power of cloud-based AI and what it means expressed through an application. Designer helps you create from your own content or ideas and makes it easy to design social media posts, invitations and much more, fast. It also automatically helps you get a variety of unique images and designs that are generated just for you. I'm so excited for this app, it's going to be a game changer for me personally.
The integration of Microsoft AI and DALL∙E 2 in our new Microsoft Designer app is an amazing example of AI assistance blurring the lines between the platform, the device and the cloud all so you can express yourself even better. Saving time and improving creative outcomes, regardless of your level of expertise.
We don't believe technology of this type should be limited to a single app. That's why we'll soon be bringing these Microsoft Creator tools – including DALL∙E 2 integration – into Bing and Edge with Image Creator. So you can use your words, not just to search, but to create.
To learn more about Microsoft Designer and other new creator and AI tools in Microsoft 365 and Microsoft Edge and Bing announced today, please visit this blog post by Liat Ben-Zur.
Making your everyday easier with Windows 11
Since its release in September, we're energized by the feedback and response to the Windows 11 2022 Update. Your feedback is what drives us. We love hearing how you're enjoying new features the team created for you, and how they're helping to make your everyday easier on the PC.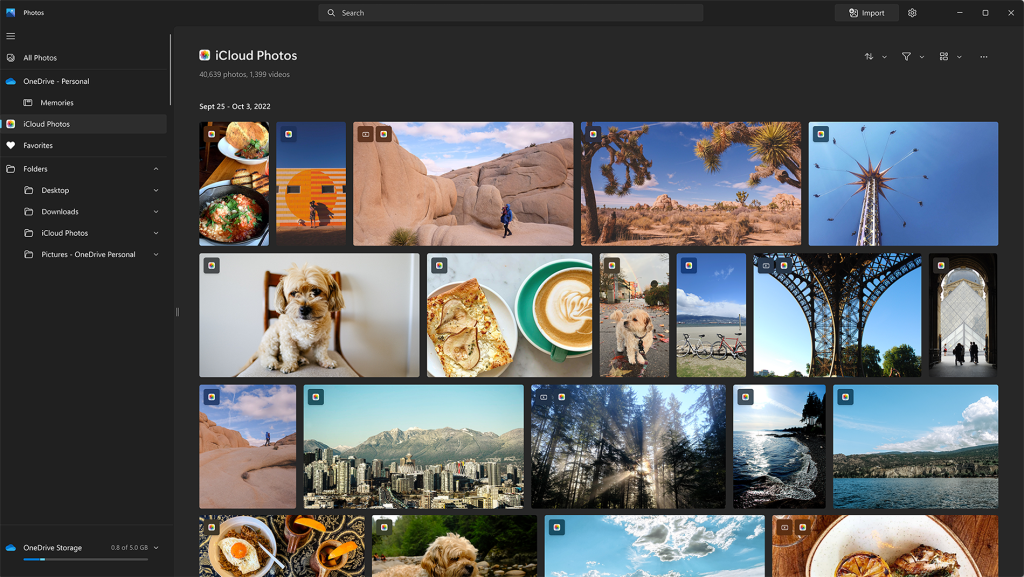 Today, we shared steps we're taking to remove barriers and make it more seamless to connect to what matters across platforms and devices. We're excited to announce that we're making it easier than ever for you to access your iPhone photos and videos, and the entertainment you love from Apple on Xbox consoles and Windows devices. Through a new integration with iCloud and the Photos app in Windows 11, you will be able to access all your photos and videos from your iPhone right in the Photos app. It's seamless, just install the iCloud for Windows app from the Microsoft Store and choose to sync your iCloud Photos. Available to Windows Insiders beginning today, this experience will become available to all customers on Windows 11 in November.
The iCloud photos integration is an incredible game changer, I love that my daughter Bella is so excited for this. It literally removes a barrier for her, now she'll easily be able to access all her pictures from iCloud right on her Windows PC.
We also want to help you access the entertainment you love more easily. The Apple TV app is already on Xbox consoles, and starting today, Apple Music will be available there as well. We're also happy to announce that Apple Music and the Apple TV app will launch on Windows next year. Previews of these apps will be available in the Microsoft Store later this year. We can't wait for you to be able to listen to your favorite music, playlists and more from Apple Music, and watch your favorite Apple TV+ series and movies, right on your Windows PC.
Integrations like these are just one way we're making Windows available to more people with great experiences you love across every device you use.
New accessories to complete the experience
From the Xbox Adaptive Controller to the Surface Adaptive Kit, to new accessibility features built into Windows 11, we've been on a journey to live our company mission of empowering everyone to achieve more. To do this, we've made inclusivity a key ingredient in our approach to product-making. This is a long-term journey, but we're pleased to be doing what we can to solve challenges for the more than 1 billion people in the world with a disability. Earlier this year, we were proud to announce Microsoft Adaptive Accessories.