Introduction
We've reviewed plenty of Huawei smart devices but it's our first time testing one of their Bluetooth speakers. Huawei teamed up with French audio tech company Devialet for the Sound Joy speaker in a bid to challenge the likes of JBL's Flip series and it's time to see how well they fared.
Can this be your next portable speaker ? Let's find out.
Design and build quality
Huawei Sound Joy features a cylinder shape with a mesh fabric overlay and soft-touch plastic. It's 202mm tall, 73mm wide and weighs 680 grams. To give you a better perspective on size – it's about as tall and wide as a 500ml insulated water bottle. The IP67 water and dust resistance means you can use it outdoors and you shouldn't worry too much if it starts raining or if someone accidentally spills their drink.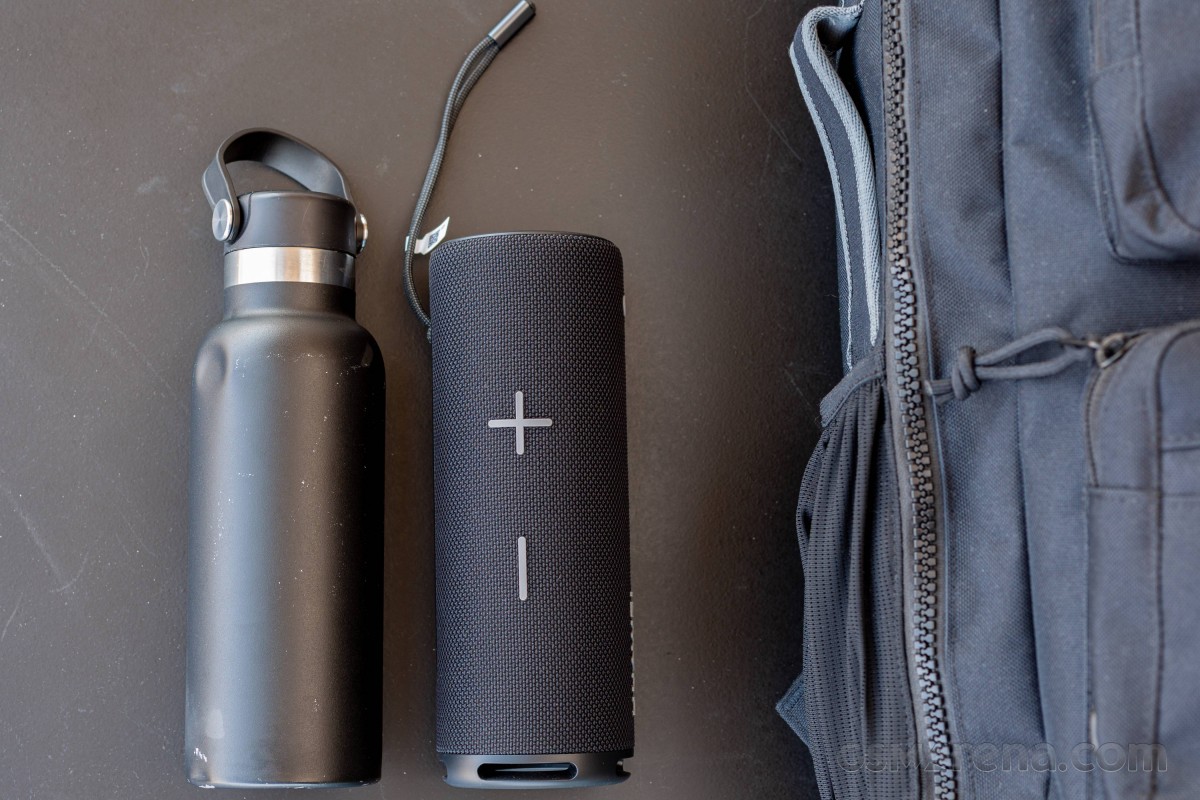 There's one 20W full-frequency speaker on the inside accompanied by a 10W tweeter. Sound is amplified by the two passive radiator grilles on each side. Huawei also added a multi-color LED ring light on the top side of the speaker (right if the speaker is placed horizontally) which gives out colorful hues that sync to the content you're listening to. It can also show useful information like the battery level, volume level or firmware update progress.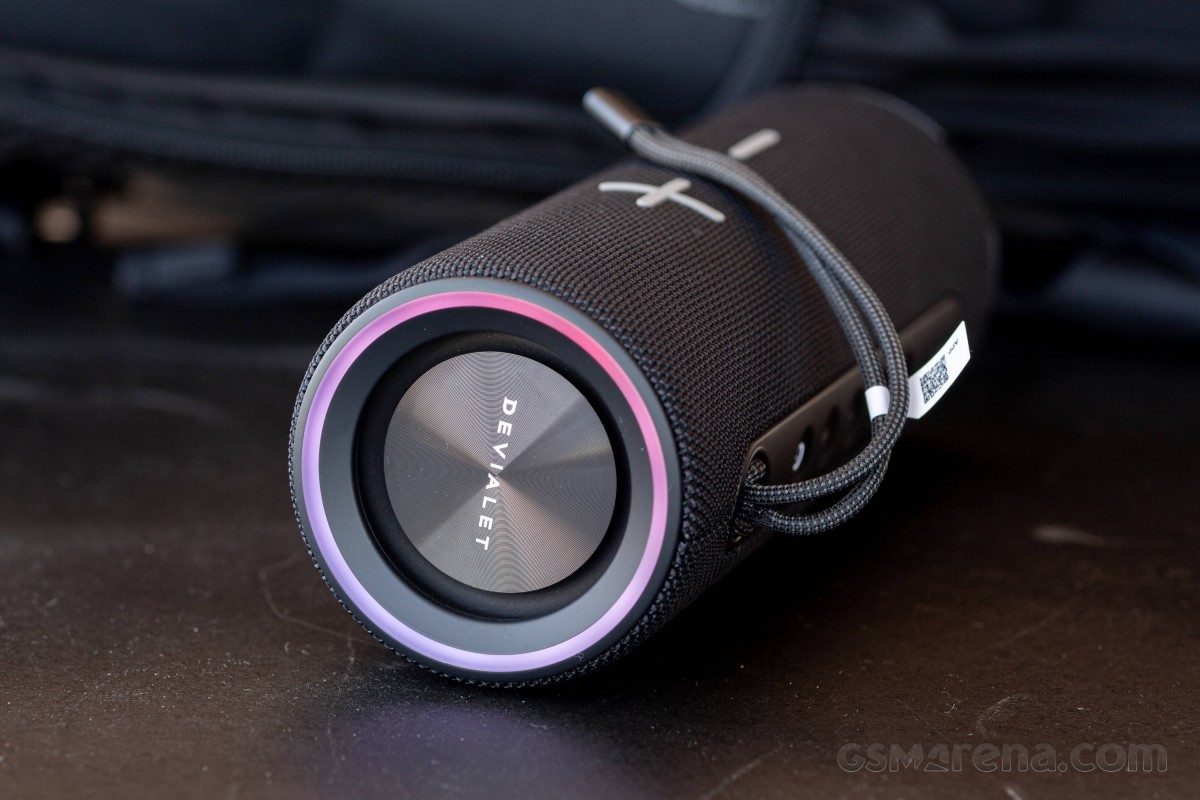 Sound Joy packs five physical buttons in the following order from top to bottom – a power key, voice assistant key, play/pause key, Bluetooth key and a stereo key if you want to use two of these to achieve that stereo sound output.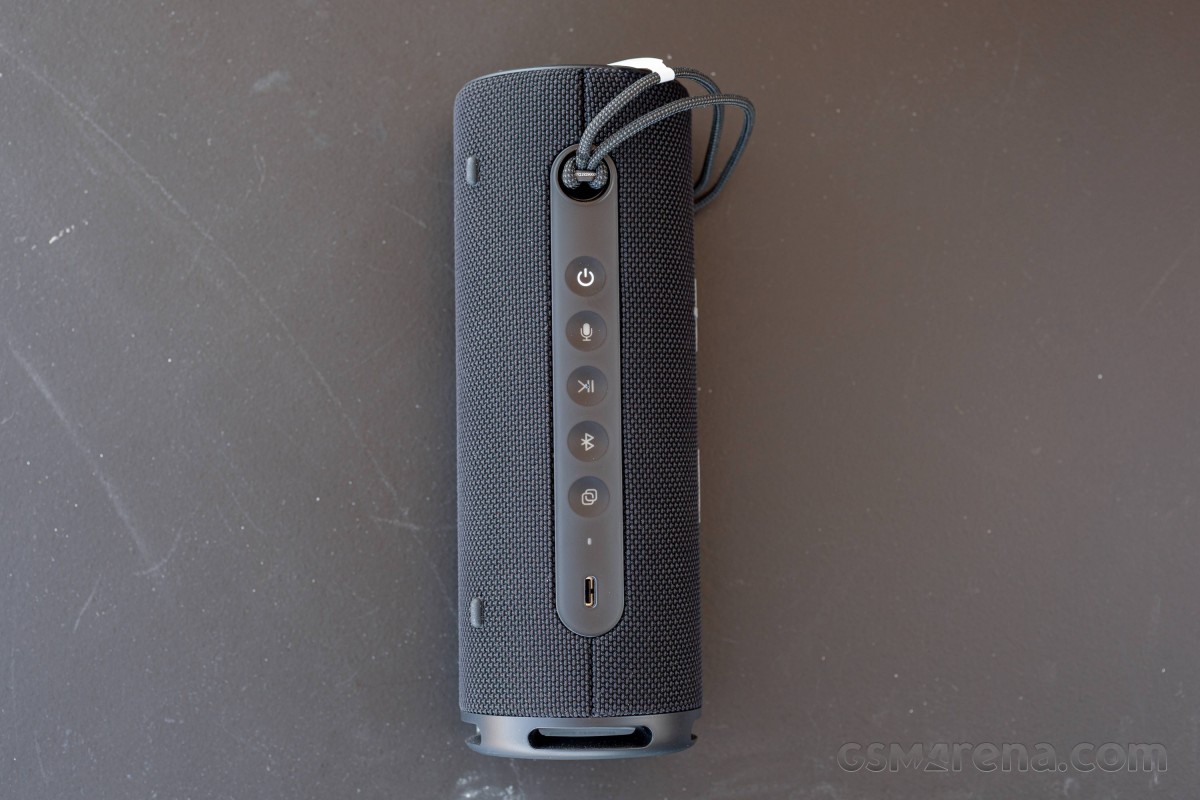 There are also two large volume buttons that offer some tactile feeling controls as well as an NFC logo indicating the location of the coil. The retail package includes a USB-A to USB-C charging cable and a lanyard.
Sound quality and features
Sound Joy is a monophonic speaker though it can be paired with a second one in a stereo setup. It gets loud though not as loud as the JBL Flip 6 for example. Sound is bass-heavy which tunes out the mid and low-end ranges. This means vocals often get lost which is not ideal for music listening. The bass distortion and lack of tonal balance are the weak spots here. We've also noticed volume inconsistencies which are especially prevalent in the higher volume ranges.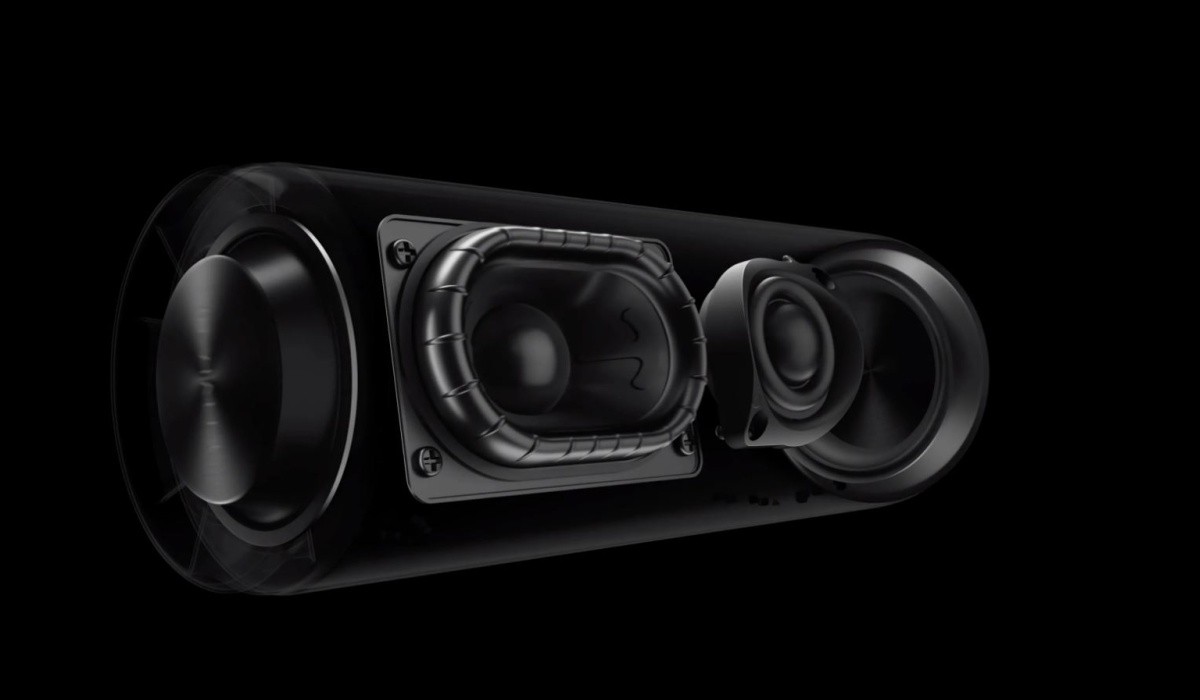 Podcasts and movies sound just fine and the Sound Joy is a viable alternative if your TV does not come with a good soundbar by default. This is also miles better than your regular laptop speakers too so it serves multiple purposes.
Connecting to the Sound Joy is done exclusively via Bluetooth 5.2, no 3.5 mm jack here for legacy devices. You also have the option to tap and pair via NFC. Huawei's AI Life app is your one-stop shop for tinkering with the speaker's features and tuning its sound.
It works best on Huawei devices though I managed to set it up on a Samsung phone as well. Apple users are out of luck here as the iOS version of AI Life doesn't support the speaker. You get three sound output modes here – a Hi-Fi mode, Vocal mode and Devialet mode. The speaker is set in the Hi-FI mode by default though the Devialet mode actually sounds better with clearer mids and vocals.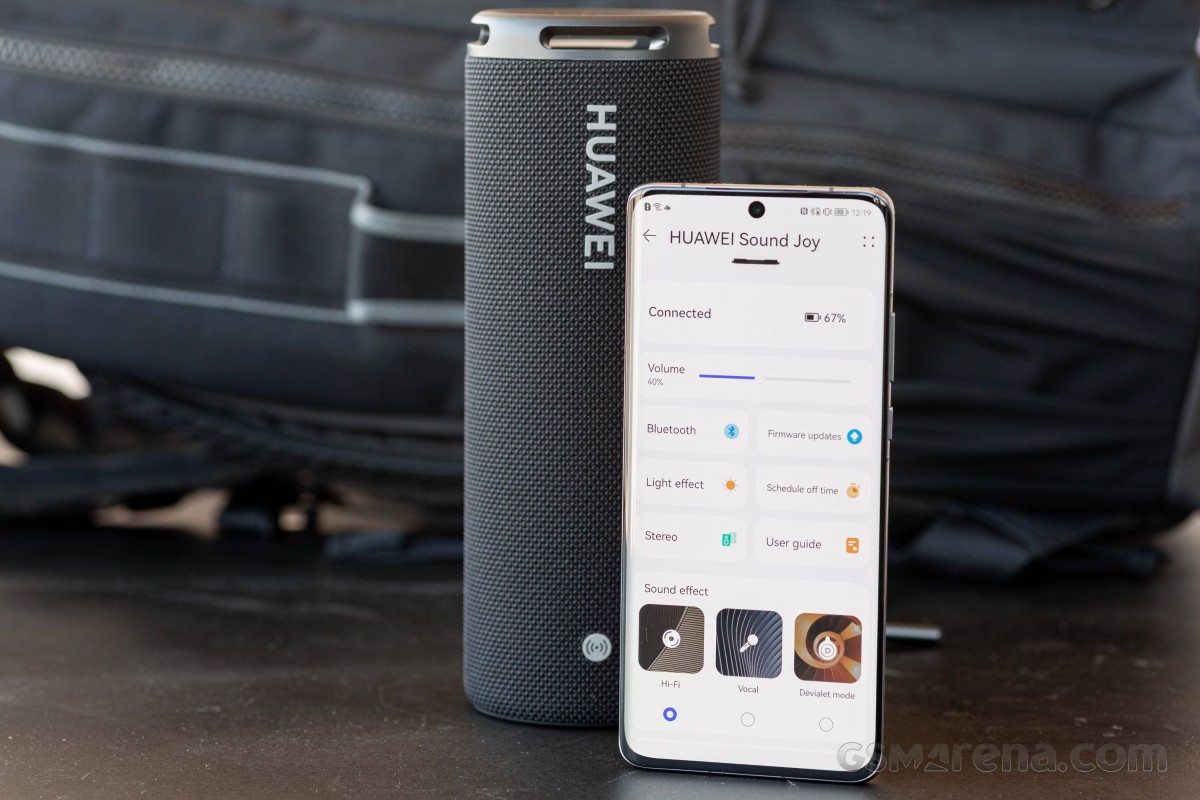 The app also lets you fine-tune bass via a slider knob where you can tinker between -6db and +6db values. Sound Joy supports the AAC and SBC codecs and comes with three onboard mics for voice pickup. Call quality is decent and people on the other end reported loud and clear reception of my voice.
Some things to note about the Huawei exclusive features. Automatic discovery mode is limited to Huawei devices so if you're playing some audio from a non-Huawei device you'll have to go into Bluetooth settings each time you want to use the speaker. On the other hand, the voice assistant button on the speaker toggles whatever service your phone comes with. I tested this out on a Samsung phone and sure enough, Bixby was summoned as soon as I pressed the button.
Battery life
Huawei Sound Joy comes with an 8,800 mAh battery which should be good for 26 hours of continuous playback. In our tests, the speaker managed to last us a whole three weeks with varying usage. One thing that comes in handy is the 40W charging support. A short ten-minute charge will net you an hour of usage provided you have the right power adapter.
Verdict
Huawei Sound Joy is a good first attempt at a rugged portable Bluetooth speaker. The design feels premium, the LED ring light is a cool party trick and the IP67 rating adds peace of mind for outdoor use. Sound Joy's battery lasts for weeks on end and it can charge up in a hurry provided you have a 40W charger around. This is a versatile speaker that can play your favorite tunes outdoors on a hike or at the beach, it can also complement your TV or laptop or serve as a loudspeaker on your desk.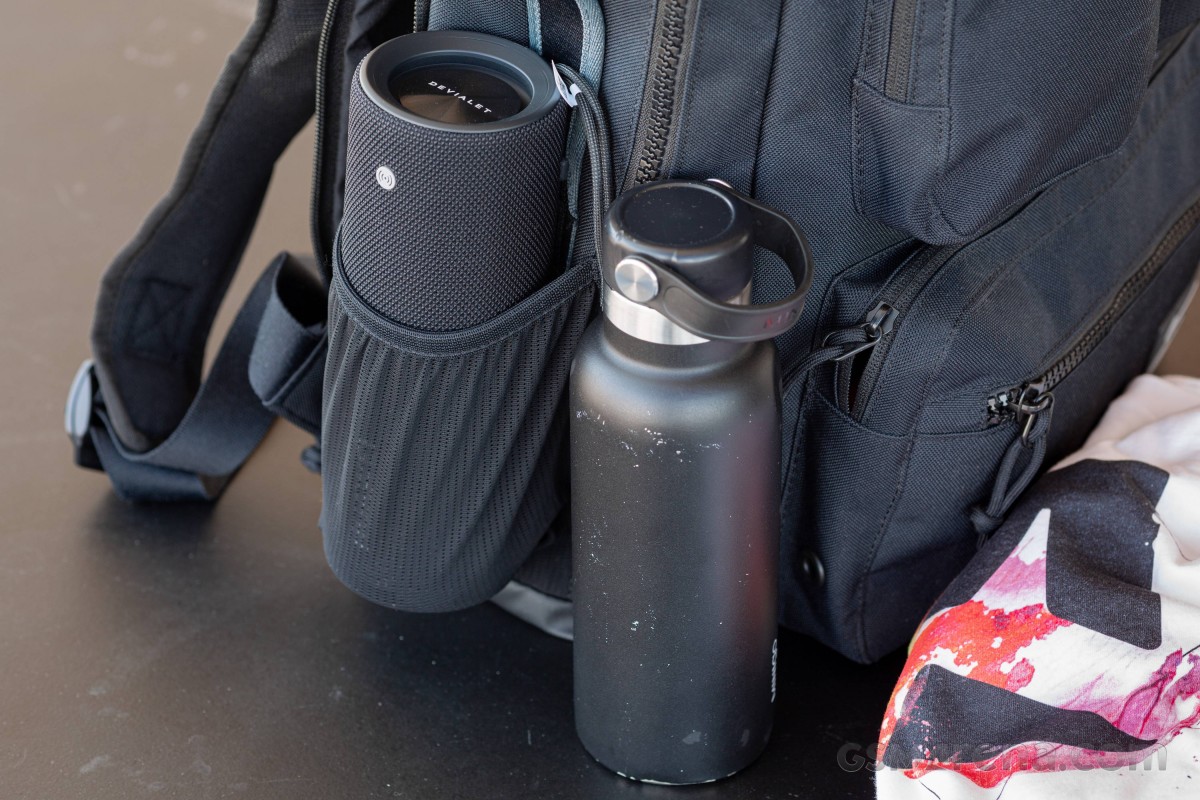 Music playback is a bit of a letdown with its overpowering bass leaving lyrics in the backseat. This speaker gets plenty loud though competitors from JBL's Flip series get even louder. Volume levels are also inconsistent towards the higher end and lead to distorted vocals.
Huawei Sound Joy is currently on sale in Europe for €140/£130 though it's gone on discount a few times in the past months. JBL's latest Flip 6 can be had for the same €140 which is an interesting proposition. At the end of the day it comes down to your brand allegiance and if Huawei's ecosystem fits your style then the Sound Joy is a worthy addition.