How'd you find me, Whitney Port? The mystery of Facebook's algorithm finally getting me right
The social media giant knew I would enjoy a reaction series of The Hills, a show I was obsessed with in the early aughts
Whitney Port and her husband Tim Rosenman were surprised when I said I first found their video series on Facebook. Or rather, that it found me.
I wasn't expecting it myself. Though I mainly use Facebook to keep in touch with family all over the world, I occasionally find myself scrolling through an increasingly chaotic feed. It was there, in the abyss of poorly-produced, off-kilter videos that Port and Rosenman's reaction series – where they watch and comment on episodes of the MTV hit reality show and my high school-favorite, The Hills – somehow found me.
Episodes of Port and Rosenman's Facebook show, which are usually 25 minutes, were mysteriously mixed in with the peculiar collection of videos now typical of my feed. The mystery was I don't follow Port's Facebook page and have never liked or engaged with The Hills content. And videos suggested to me usually have nothing to do with my interests. Suffice to say, I didn't expect the Facebook algorithm to surface a years-old era of reality TV I once obsessed over.
With little transparency into how Facebook makes decisions about what to suggest to me, every new episode of Reacting to the Hills pushed to the top of my Facebook feed left me wondering: How'd you find me, Whitney Port? Was it a fluke, or is the algorithm getting better?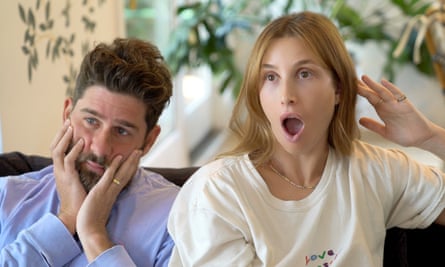 ---
The mystery of Facebook's ad targeting
Facebook doesn't get me: My feed is overwhelmingly a confusing array of scripted videos of "pranks" and scenarios such as "she POISONS him on their wedding night". It's mostly a nuisance.
While I spend most of my reporting unveiling the nefarious ways ad and data tracking can harm you, I loathe to admit it ended up being a nice surprise to be targeted by the algorithm with something I genuinely liked.
For those of you who weren't avid consumers of the early-aughts MTV reality show universe, the show's name (or Port's) might not ring a bell. Its perhaps better-known predecessor, Laguna Beach, followed rich high schoolers in Orange county until one of the protagonists, Lauren Conrad, moved to Los Angeles for an internship. Thus began the multi-season spin-off, The Hills, where we eventually met Port. Now an author and fashion designer, Port was introduced as Conrad's level-headed and hard-working co-intern. As fans of The Hills might remember, she is the girl who famously did go to Paris. (Kind of.) Rosenman, for his part, is a TV producer, who met Port while working on The City, her Hills-spin-off set in New York, and whose resume also includes work on The X Factor.
It was a simpler time: reality stars were beautiful but not perfect. Some of their lifestyles were enviable but, I thought, attainable. Their drama was juicy but not stressful. Even the Kardashians had day jobs back then.
But I probably wouldn't have sought out a show I've already watched unless Facebook suggested it. Facebook offered little insight into how the reaction show landed on my feed except to say it suggests pages, groups and events based on content I've expressed interest in. Taking a look through what Facebook has gleaned as "ad topics" I might be interested in provided some potential hints: mixed in with generic topics like "modern art" and "cosmetics and fashion" – which, sure, that tracks – Facebook wrongly assumed I like reality dating shows Love Island and Bachelors in Paradise.
There's little transparency around how or why Facebook thought I was interested in those topics. The pages or groups I've "liked" offered fewer answers and were largely a mix of former employers, city-specific halal food directories and wedding vendors I've worked with.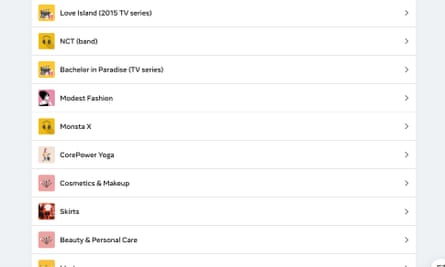 It's certainly possible that Facebook's algorithm has been trained to assume that some combination of interests assigned to me would mean I'd likely enjoy Port and Rosenman's take on a reality series I watched more than 14 years ago. It's also possible that the many opaque ways Facebook tracks me across its own apps, like Instagram, and other non-Meta owned websites has revealed my obsession with reality TV.
In the absence of answers, I turned to the only people I thought could explain why I was being visited by this particular ghost of pop culture's past.
---
'We don't really use Facebook'
The short answer is Port and Rosenman don't really know.
"We don't really use Facebook at all," they said at the end of 2022. Their series started in earnest in the early days of the pandemic and lives on YouTube. They've since moved on to rewatch other shows in their universe like The City, Laguna Beach and Siesta Key.
In many ways, Facebook was an afterthought. It wasn't until Studio 71, a production company that helps creators monetize their online content, suggested they leverage Port's existing presence "from back when people were doing Facebook" that the couple even considered sharing it there, Rosenman said.
"And they handled most of that," he said. Studio 71 declined requests for interviews.
Port's Facebook page is like a time capsule: as far as her 457,000 Facebook followers are concerned, the couple is still in the middle of rewatching The Hills.
Port and Rosenman have never heard from Facebook and say only about a quarter of their ad revenue comes from the Meta-owned platform, so they're a bit less engaged. "I haven't gone into the comments section and talked [to followers]," Rosenman said. "It's just a bandwidth thing."
They admit their show has niche appeal – folks who weren't in high school or college when The Hills was airing might not immediately recognize it, much less their names. Still, YouTube took an immediate interest and reached out to help them promote and improve the show soon after they started.
It's on YouTube that Rosenman, who handles a lot of the promotion and audience engagement, has built up what they describe as a deeply involved community.
"I know it sounds cheesy, but everyone feels really connected and the community has started to really know each other," Port told me. "In the chat they'll be like: 'Oh, Stevie, how was your first date?' And they've never met before."
After video chatting with them for nearly an hour, it was easy to see why fans might feel particularly drawn to the couple. The couple came to the video call as they were. Rosenman briefly answered the phone from their bed in their Los Angeles home before he got up to get Port, who had on a clay face mask and wore a tan hoodie. They immediately apologized as Port ran off-screen because their son's play date wasn't going as well as expected.
It's hard for me to explain to people who didn't care about The Hills when they were soft-brained and easily influenced teenagers – like I was – why I've been so drawn to their series. But there's something healing about revisiting a show I watched at that age through the eyes of a cast member who lived through it and her now-husband.
In the videos, Rosenman cracks jokes and asks Port about how certain moments may have been influenced by producers. He plays the role of the viewer, getting answers to some of the burning questions teenage me might have had. And Port continues to be the voice of reason, offering thoughts on the actual motivations of her cast mates and friends or the ways they could've handled situations better.
It's been healing for Port too, she said.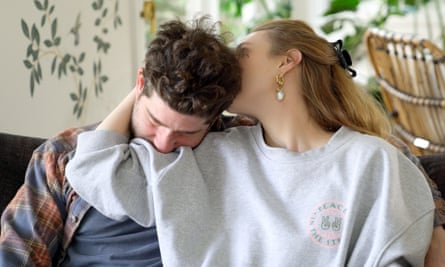 Rewatching the show eased the imposter syndrome she once felt and made her "really grateful for it and took away a little bit of the resentment", she explained.
"I got on the show when I was 20 years old … and I thought that since I caught this success very young, everything that I got afterwards was a result of being on a TV show and not actually for my talent."
The couple has two things many co-hosts work years to cultivate: a built-in rapport and the ability to share at times juicy but mostly context-providing behind-the-scenes information about their chosen subject. But most of all, they're just sitting on their couch in their sweats and musing about the life Port once lived.
"It's the easiest part of my job," Port said. "My ideal relaxing, end-of-the-night scenario is sitting on the couch together watching TV. … We get to then have it once or twice a week by filming this show."