Intelligent Systems' latest introduces dozens of new heroes alongside some of the nearly 600 playable characters that have appeared in earlier games
Article content
Score: 8.0/10 
Platform: Nintendo Switch
Developer: Intelligent Systems
Publisher: Nintendo
Release Date: January 20, 2022
ESRB: T
Article content
Over its 30-year history, Fire Emblem has introduced around 600 distinct playable characters over the course of a dozen-plus fantasy-themed strategy games. 
Article content
It's a trove of valuable intellectual property that Nintendo finally began to exploit in recent years in a variety of ways, including remakes of earlier games in the series, physical Amiibo figurines, and the smash hit Fire Emblem Heroes mobile game, which lets players collect hundreds of characters to be assembled in dream teams.
And now developer Intelligent Systems has found another way to leverage fan nostalgia: emblem rings.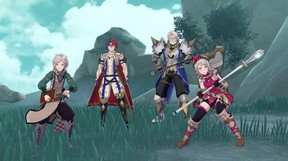 The franchise's latest game, Fire Emblem Engage, is set in its own world and features a large cast of original characters. We take on the role of the Divine Dragon, a warrior who has been asleep for a thousand years following the end of a terrible conflict. The kingdoms of Elyos have enjoyed relative peace over the last millennium, but as a new threat rises the Divine Dragon is awakened from her slumber to counter it. Her mission: gather the 12 Emblem rings scattered around the continent and use their power to defeat the growing evil.
Article content
Each Emblem ring contains the soul/lifeforce/energy of a familiar hero from a previous game — like blue-haired Marth, the star of the original Fire Emblem who has since become perhaps the most well-known character in the series. A hero bearing an Emblem ring can "engage" with it to summon an apparition of the hero it hosts, unlocking powerful attacks and skills. Players can also forge minor rings that contain the essences of additional characters across Fire Emblem lore.
It's a clever means of taking advantage of all those beloved personalities from games past while keeping the focus squarely set on a new cast of characters, each with their own trials and tribulations, and several of whom are bound to become fan favourites themselves. Like Yukana, a rascally thief who turns over a new leaf when she hears the voice of an Emblem ring calling to her, and Lapis, a dutiful retainer who doggedly protects her capable-but-unconfident prince.
Article content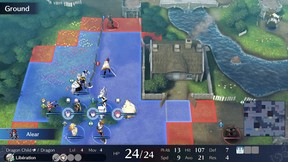 Key to our emotional connection with these characters is the fact that any of them could die at almost any moment. Franchise fans will be pleased to know Engage carries on the series' trademark "permadeath" feature, which sees characters who fall in battle permanently eliminated from the game, tragically cutting short whatever tale the writers had imagined for them. This ever present risk of losing characters you've come to know and love (and have likely spent plenty of time and resources levelling up) adds an urgency and tension missing in most interactive stories, where which playable characters miraculously respawn or mend between battles. It makes the brief moments you spend with each Fire Emblem protagonist all the more dear.*
Article content
And that brings us to the other half of the game: battles. When you aren't wandering around Somniel — an island in the sky that serves as the Divine Dragon's posh abode — chatting with all the heroes you've gathered on your journey, upgrading their gear, and trying little stat-boosting mini-games, you'll be travelling around the continent, engaging in taut turn-based fracases with a mix of monsters and rival factions. 
As usual, battles see units arranged on gridded maps viewed from above. We move our heroes like chess pieces, pitting strengths against weaknesses, keeping armoured units at the front and ranged at the back, shoring up flanks, taking advantage of cover and raised positions, and creating bottlenecks. When a command is issued, the camera zooms in to present quick, stylized clips of bloodless anime combat action, complete with emotional death monologues should your fighter happen to perish.
Article content
The weapons triangle returns–sword beats axe, axe beats spear, spear beats sword — along with a new parallel system that sees characters using melee arts given advantage over archers, sorcerers, and thieves. Add in a few other combat tweaks — such the ability to break an enemy's defences and keep them from retaliating by using the right weapon against them, and new fighting styles such as "backup," which allows neighbouring units to chain attacks with the selected unit — and there's plenty of fresh tactical meat to chew on.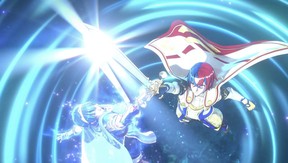 It's a case of iterative rather than revolutionary change, but that's no sin — especially within a franchise with a pre-existing foundation as sturdy as that of Fire Emblem. Battles are challenging and luck remains an occasionally maddening factor, but sound strategy will win the day far more often than not. 
Players swarm to new Fire Emblem games not to see the latest in graphics and mechanics innovations, but rather to enjoy a bit of classic Japanese RPG-style melodrama mixed with captivating tactical combat. And that's exactly what they get here. The added bit of nostalgia that comes with revisiting past heroes is just the gravy on the side.
* Permadeath is an optional setting, but if you don't turn it on are you really playing Fire Emblem?