Firefighters/entrepreneurs behind FireRein are shaking-up the industry with a game-changing invention
Article content
Zackery Hodgen was always hustling to make a few extra bucks as a kid. He raised chickens at his family home in Napanee, Ont., so he could sell the eggs. He also sold firewood and had another sideline raising sheep, a flock he grew from three to 100 members before selling the whole lot to pay for his college tuition.
Article content
In addition to all the farm-related enterprises, he bought a house, fixed it up and flipped it for a tidy penny at the age of 20, at a time when his overriding ambition was to become a professional forest firefighter in northern Manitoba.
"It's the ultimate adrenaline rush," Hodgen said. "Instead of getting into a firetruck, you get into a helicopter."
Flying into a fire, he would see the smoke, flames and water bombers buzzing around, and then he would be in the middle of the action, tying into a water source and fighting the fire.
It was an intoxicating experience. The money was good, too, and it became even better when Hodgen transitioned from fighting forest fires to working in the oilfields as an industrial paramedic. His run of experiences in the West looked great on a resumé back East, and led to what he imagined would be his dream job with the Belleville Fire Department in Ontario.
Article content
Dreams change. Within a year, the old entrepreneurial itch had kicked in. Hodgen quit the full-time gig in Belleville for a volunteer post with a fire brigade near Napanee, and went into business with his neighbour, Steve Montgomery, and Quincy Emmons, a local fire captain.
"As firefighters, we are exposed to the nasty bi-products of what is burning on the scene, everything is toxic," he said. "But, ultimately, the products that we are using to actually fight the fires are also toxic, impacting not just firefighters' health, but the general health of the community."
Firefighting's dirty, open secret is that the foams crews traditionally use to "paint" a surface and help quash a blaze are full of nasty chemicals. Chemicals that can potentially leach into groundwater sources, and that are currently the subject of a $40-million class-action lawsuit in Mississippi Mills, Ont., where a group of residents are suing the federal government, alleging foams that were used at a national fire research lab contaminated their well water.
Article content
Foams could likewise pollute the bodies of the firefighters deploying them, just another job hazard in an occupation with cancer rates about 10 per cent higher than the general population, according to Len Garis, a retired Surrey Fire Service chief, who currently serves as an adjunct professor at the University of the Fraser Valley and a research scientist with the BC Injury Research and Prevention Unit.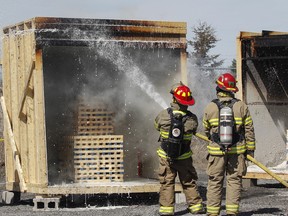 "Sixty to 70 firefighters a year die from cancer in Canada, and that is something I don't think a lot of people know," he said.
The toughest days of Garis' decades-long career were attending the funerals of individuals who died in the line of duty, not while charging into a burning house, but after developing a job-related cancer due to repeated exposure to toxic environments.
Article content
"Presenting the widow and a family with a flag for their husband's service after they had succumbed to cancer was the worst bloody thing I ever had to do," he said.
Turning the tide will require a systemic overall, Garis said. It is a fix that includes installing sprinkler systems in all new buildings, greening construction materials, establishing a national cancer registry for firefighters and detoxing the tools in the firefighting arsenal, including the foams.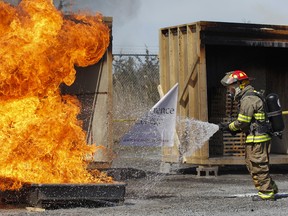 "Creating a non-carcinogenic product is a positive step in the right direction, but we can't lose sight of the fact that the entire environment that firefighters are going into is going to be toxic," Garis said.
But if FireRein can get a foothold, with 20-litre pails of its gel product that cost about $320, it will be playing in a market worth US$1.5 billion, and one that has long been dominated by American industrial giants, such as Dupont de Nemours Inc. and 3M Co. The global market for foams is expected to be worth US$2.8 billion by 2027, according to researcher IndustryARC.
Article content
There are potential riches to be had, indeed, and FireRein's entrepreneurs hope to position themselves at the forefront of the clean-tech revolution. It is already happening south of the border, with the Environmental Protection Agency actively seeking means to destroy harmful chemicals in firefighting foams, according to agency policy releases.
That's good news for a small-town Ontario company, whose founders tapped into credit lines and borrowed money from family and friends to get things off the ground. They even bought a used fire truck, and connected with some smart people at a lab-based accelerator program in nearby Kingston, stewing up their food-grade concoction (don't eat it) to replace existing foams.
Article content
The precise ingredients of the resulting, honey-hued brew, branded today as Eco-Gel, are not for mass disclosure. However, please know that should your barn catch fire, and the Eco-Gel early-adopters with the Stone Mills fire department arrive on the scene, the stuff they will be using to douse the flames is a food-grade blend of vegetable oils and corn-feed stock.
"When I first saw it work, I said, 'This is going to change firefighting,'" Hodgen said.
But change takes time. Other early believers in the fire-quashing gel include some back-country lodges around Banff, Alta., but the big city fire departments and private industrial fire crews are the real heavyweight targets. Selling them on the gel and scaling up production is the company's next test.
"I got into firefighting because I wanted a career where I could help people," Hodgen said. "What we are doing now could have a much bigger impact."
• Email: joconnor@nationalpost.com | Twitter: oconnorwrites