Xbox Game Studios' branching crime drama is best enjoyed in a group, with friends arguing over decisions and taking the blame for fatal outcomes
Article content
As Dusk Falls
Article content
Score: 7/10
Platforms: Xbox Series S/X, Xbox One, Windows PC
Publisher: Microsoft Game Studios
Developer: Interior/Night
ESRB: M
Thievery. Murder. Corruption. Families. Love. Unexpected twists. 
As Dusk Falls has all the ingredients of a good dramatic crime series on HBO or Apple+. But this story, which spans multiple decades and is presented in six roughly hour-long episodes, is no TV series. It's an "interactive drama" headed up by designer Caroline Marchal (Heavy Rain, Beyond Two Souls) for Microsoft Corp. game platforms that contains myriad branching paths chosen by players.
Will the alcoholic handyman, dry for two years, pick up that shot glass? Will the son of a gambler commit a murder to help his father? Will the out-of-shape airplane mechanic trust his wife when she says she's not cheating on him? You have a say in these — and many more — key events that shape the narrative.
Article content
The catch is that it's not necessarily just up to you. 
While you're free to work your way through the story alone, the real entertainment comes when playing with up to eight friends and family, each of whom have a vote in what happens. Using either a controller or the downloadable app (which wasn't yet available at the time of writing), each player picks from a selection of actions or responses whenever a decision is needed.
Disagreements will be common — that's half the fun. Players are bound to side with different characters for their own reasons, perhaps revealing their morality or sense of justice in the process. And sometimes it's hard not to go against other players just out of a need to be contrary and provoke a reaction. Watching my do-gooder teen daughter's expression of shock at some of my less ethical choices never got old. 
Article content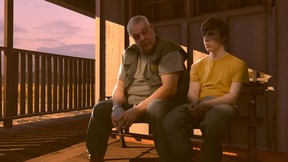 If a member of the group feels particularly strongly about a decision, they can override the rest, but this power can only be used a few times, so it's wise to save it for when you really need it. Ties — which, in my experience, tend to happen frequently — are decided at random.
As a multiplayer game, it works pretty well. The quick-time events during action scenes — which see various players prompted to flick a stick or mash a button to make one of the protagonists, say, pull someone from rubble or grab a weapon — are forgiving, helping make the game more accessible to non-experienced players. And once an episode is over you can go back to examine a branching timeline of choices. You can instantly jump back into specific scenes if you want to see what would have happened had you chosen differently without replaying the whole chapter.
Article content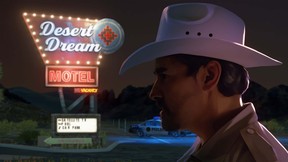 It's a little less fun should you choose to play alone. Without friends providing distractions, we're able to focus a little more on the story, which doesn't really hang together as well as one might hope. Characters, though mostly well-voiced, tend to feel shallow and fall into stereotypes. And — perhaps due to the need to bring branching paths back together at certain points in order to avoid infinite eventualities — outcomes and resolutions don't always make good sense.
The visual style is also bound to turn some folks off. Composed of a series of digitally rendered painting-like stills, it sometimes feels like we're watching a set of storyboard images rather than a finished product. Individual cels are lovely, investing energy and character into their subjects, but when strung together with seconds-long pauses between each one the experience can feel a little jarring.
Article content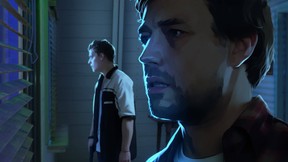 The audience for a game like this probably isn't huge, and some folks won't be willing to risk $40 on such a short play. That said, As Dusk Falls is part of Microsoft's hugely popular GamePass subscription service, which could lead plenty of people who wouldn't normally try it to give it a go, especially if they're looking for something to do with friends. 
As for me, my little family had a pretty good time playing a chapter each night over the course of a week. And while I doubt I'll play again — I'm fine with how the story turned out for us — I'm pretty sure my mildly OCD daughter is already plotting to go back and fix all the things I made go wrong with my overrides. Who knows? Maybe she'll find a way to get everyone through this chaotic criminal saga in one piece. But I doubt it.